LISTS: 10 Coolest Couples In Music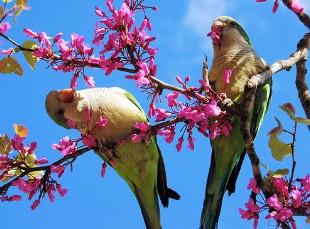 Posted by Jim Shearer on
Spring is in the air! Put away those winter coats, because the birds are tweeting, the flowers are blooming, and people are falling in love.
(left: Spring brings out the love bird in all of us!)
Ah yes, if the blue skies and green trees don't do it for you, I'm sure a little pluck of the guitar strings or a pitch-perfect voice will do the trick. Maybe a buzz of feedback or a 16-bar rhyme stirs your soul?
Music, just like a terminal case of spring fever, is known to bring lovers together. Since we're on the topic–and since the air is mighty fresh on this morn–now is as good of a time as any to take a look at the 10 Coolest Couples In Music.
Before you start ripping tulips out of the ground because your favorite love duos weren't represented, let me do some clarification. The following list has a '90s-'00s bias (which may tick off some Abba and Fleetwood Mac fans), represents couples that are currently in a relationship (that eliminates divorcees, Jack & Meg and Whitney & Bobby, as well as couples with one or both of its members deceased, Johnny & June, Paul & Linda, John & Yoko, Sonny & Cher, Sid & Nancy, and Kurt & Courtney), and only includes musical personalities (sorry David and Chris, Iman and Gwyneth disqualify you). Both of the members of the relationship also have to seem to get along with each other (ruling out–at least for now–Chris & Rihanna):
10. Win Butler & Régine Chassagne (Arcade Fire)
This match made in indie-heaven met at McGill University in Montreal, where Win persuaded Régine to join his band, Arcade Fire. After different line-up changes, there was a point in time when Win and Régine were the only two members left in the group (bad for getting a record deal, but great for romance). Win and Régine were married in 2003, recruited many more musicians over the years (they'd never again face the problem of having too few band-mates), and churned out two critically praised albums, Funeral and Neon Bible, in the '00s.
9. Ben Gibbard and Zooey Deschanel
Rumor has it that Zooey Deschanel formed the musical act, She & Him, with M. Ward just to make herself eligible for this list. As explained above, if she was just an actress alone, she wouldn't have been able to join Death Cab For Cutie's, Ben Gibbard, in this ranking of coolest couples in music. This relationship is so cool, because it gives hope to every stocky, bespectacled, indie-rock nerd out there. Keep in mind though, even if Ben Gibbard had George Clooney-like looks, it wouldn't mean crap if he wasn't such a brilliant and sincere songwriter.

8. Jason Hammel & Kori Gardner (Mates Of State)
If Jason and Kori lived down the street from you, and you knew nothing about their band, you'd assume they were just really nice neighbors. Don't let their casual business attire and the fact that they're parents fool you though–Jason and Kori are a husband-and-wife, indie-pop-duo known as Mates Of State. I can guarantee that most of your white-picket-fenced neighbors haven't toured with Spoon and Death Cab For Cutie, done a nude Peta ad, or played Lollapalooza.
7. Nas & Kelis
Talk about cool! Nas is one of the most respected MCs of the last decade and Kelis has hip-hop/R&B crossover appeal out the wazoo. Talk to her for two minutes and you'll also discover that she's one down-to-earth gal who will be an awesome mother–which we'll find out soon, because her and her hubby are expecting their first child later this summer.
6. Bruce Springsteen & Patty Scialfa (E Street Band)
Is there a better rock and roll fairy tale than this? How many times have we seen the adored rock dude fall for a super model, rather than the cute, girl-next-door band-mate? For a while, Bruce Springsteen was living out this scenario, until he came to his senses and married his redheaded E Street Band sweetheart.
5. Jay-Z & Beyonce
Here's why Jay-Z and Beyonce's relationship is so damn cool: If Jay-Z ever wants to get the hottest R&B singer to lay down a hook for a new track, he has to look no further than the other side of his bed. And if Beyonce ever wants to get the hottest MC to lay down a 16-bar rhyme on her latest single, she can do the same. That bed–or at least the people in it–also made a combined $162 million last year.
4. Matt Johnson & Kim Schifino (Matt and Kim)
Matt and Kim (who probably made considerably less than the couple mentioned above) is the name of a couple that doubles as a band. How many relationships–or music groups–can make that claim, huh? The two met in 2004 while attending the Pratt Institute in Brooklyn, and haven't left each other's side since. Band life, which usually causes relationships to fizzle, seems to have done the exact opposite for Matt and Kim, who can't be seen without a smile on their faces.
3. Gavin Rossdale & Gwen Stefani
You can hate Bush (the band, not the President), you can hate No Doubt, you can even hate the fact that Gwen and No Doubt bassist, Tony Kanal, never rekindled their long-term relationship, but c'mon people, you gotta admit that this is one cool couple. And it's not like their relationship is based on looks alone either. The couple has been married since 2002, have two children, and have stayed together despite the fact that Gwen found out about Gavin having a child from a previous relationship (apparently Gavin didn't know either, cause he had to take a paternity test in 2004 to find out).
2. Adam Horovitz and Kathleen Hanna
B-Boy and Riot Grrrl. If they ever have a child, I want to be the first to sign him/her to a record deal–imagine the musical genes in that kid! This may seem like an odd couple to some, since Kathleen (Bikini Kill, Le Tigre) is a devout feminist and Adrock's Beastie Boys once used caged-women as stage props (let's not even bring up the giant, inflatable penis). However, the Beasties cleaned up their act in the '90s, and at the end of the decade Adrock and Kathleen became an item. When the couple got married in 2006, Adrock fittingly sported an old-school hip-hop-inspired wedding ring, with Kathleen's name scripted in block letters.
1. Thurston Moore and Kim Gordon (Sonic Youth)
Does it get any cooler than Thurston and Kim? They were cool in the '80s and '90s, and they're still freakin' cool today. For anyone who thinks bands and romance can't mix, let Thurston and Kim be your indie-rock role models. This year marks their silver anniversary as a married couple, and they've pretty much seen and done it all–floating like a Forest Gump-feather through the worlds of no wave, noise rock, punk, grunge, alternative, and indie rock. Their daughter Coco can also lay claim to having the coolest set of indie rock parents ever.