Jon Voight's Long-Lost Hal Ashby Comedy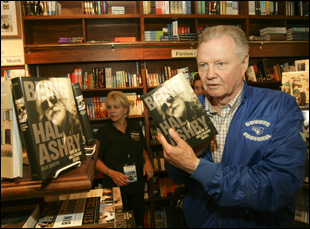 Posted by Aaron Hillis on
While journalist Nick Dawson was researching his new biography, "Hal Ashby: Life of a Hollywood Rebel," his interviews with Jon Voight (who won an Oscar for Ashby's "Coming Home") revealed that a director's cut of a long-lost Ashby/Voight collaboration still existed under everybody's noses. 1982's "Lookin' to Get Out," which had its world premiere last week at the Sarasota Film Festival as part of an Ashby retrospective tied to Dawson's book, will finally be available to audiences when it hits DVD on June 30th. Voight and Burt Young co-star as Alex and Jerry, a couple of small-time New York gamblers — lovable losers, both — who escape to Vegas when their debts come knocking at their door. Pretending to be a casino owner's close friends while he's out of town, the two foolishly exploit their free comps to try to win back their losses, much to the chagrin of the returning tycoon, the thugs on their trail, and a former prostitute (Ann-Margret) who's the mother of the child Alex never knew he had (six-year-old Angelina Jolie, in her screen debut).
Voight, who also co-produced and co-wrote the film, has mixed a wildly hilarious cocktail that's three parts "California Split" and one part "Fear and Loathing in Las Vegas." The day after its premiere, I sat down with the legendary actor during Dawson's book signing to discuss the long, strange road leading up to this definitive version of "Lookin' To Get Out," the sexiness of Hal Ashby, Angelina Jolie's unexpected debut — and because I enjoy speaking with people of strong opinions, the provocative political op-ed he wrote last summer.
What makes this long-lost director's cut of "Lookin' to Get Out" so special?
When the film was first released, there was some difficulty in the final process. The studio and Hal were having problems, Hal left the picture at one point, and the editing suffered greatly. They wanted 15 minutes taken out, we tried to patch it up, but you can't just do that with a film. So it came out in a crippled state, and never really had a proper showing. All of us were very deeply hurt by it, and hurt for Hal. But you find a way to go on, lick your wounds and keep going, right?
Shortly after that, in '88, Hal passed away. He was sick for the last year and a half of his life, and in the last seven months, Al Schwartz, the primary writer of the film, wound up being his nurse, his best friend. During that time, Al was trying to keep him distracted from the suffering. At one point, they were watching a film, and out of the blue, Hal turned to Al and said, "You know, 'Lookin' To Get Out' is a better film than you think it is." Al had told me about it at that time, and it was some clue. It was a mysterious statement. What did it mean?
A year and a half ago, I get a call from this young man from Scotland, Nick Dawson. He's writing a book about Hal Ashby, and would love to interview me. He calls me a couple months later and says, "I'm coming down next week. I'd like to bring Hal Ashby's daughter [Leigh McManus] with me." I said, "Really? He had a daughter?" I didn't know that. They never got together in his life. Hal made arrangements at different times, but never followed through. Hal's dad committed suicide when he was 12, so fatherhood was a big trauma to him, and I can understand him at those times when he almost knocked on her door and turned away. It's not much different than when you see in "Lookin' to Get Out." It's the story of Hal and his daughter, in that sense. This only became clear at that time when I put two and two together.
They came down, and it was like being with [Hal] again — surrounded by his memories, telling jokes and stories about him. And both of them, Leigh and Nick, said to me, "'Lookin' to Get Out' is our favorite film." Leigh saw it in the first version, and it was okay for her: "I feel I'm the daughter, Angelina Jolie. I'm that child that Angie played." I said, "That makes sense. That's probably true." I remember we were thinking about casting a boy, and Hal said, "No, it should be a girl."
I asked Nick, "Where'd you see it?" He said, "I saw the version that Hal left to UCLA. It's a version that he did quietly before he died." The first thing I said was, "Describe the opening." He described it, and I knew it was a cut I hadn't seen, because I knew all the cuts. So I got Al Schwartz, and we went down to see it. We put the first reel up, and it was indeed another cut, and it was terrific. I said, "Let's put up another reel." We put up one more reel, and that, too, was perfect. Then I was like, "Before we damage this film at all, let's have a showing of it in a theater. Let's call my friends at Warner Home Video," who were the best at releasing this, because they had done "Superman" and "Deliverance" and Fred Astaire's stuff. It just happened — it was a bit of a miracle — that Warner Bros. now owned the film! It was a wonderful cut, and you could tell it was Hal's. When Hal first did it, he had other people cutting it. This one he edited. Hal was an editor. He got into directing through his editing, and he won an Academy Award for "In the Heat of the Night," and now we had the great editor doing his work. It was so satisfying. They decided on that day that they were going to release it.