Is "Meeting People" Still Easy?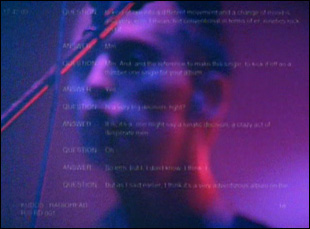 Posted by Brandon Kim on
[This article is part of our Radiohead Fanatic Fortnight — check out our box set giveaway here.]
When Radiohead achieved worldwide fame following the success of "OK Computer," Grant Gee was there capturing it all with an array of cameras, some fresh ideas and a lot of style. Ten plus years later, that style still looks fresh in his documentary "Meeting People Is Easy," an uncomfortable chronicle of Radiohead's 1998 tour, a portrait of the band as they hit the height of their success as well as their breaking point as a group. A prolific music video director (he also directed the video for Radiohead's "No Surprises"), Gee's since gone on to shoot more feature documentaries, including 2007's "Joy Division," which was critically adored but slightly overshadowed by "Control," Anton Corbijn's narrative biopic of the band's lead singer Ian Curtis that came out the same year.
I caught Gee on the phone while he was clearly on holiday, and found out he was maneuvering on a few potential feature projects. One looks to be about Vietnam War deserters in 1968 London, and another about the writer W. G. Sebald. On the surface, most of our time was spent prying into his past with Radiohead, but our subconsciouses were talking geography.
There's a visual similarity in some of your work with scrolling text.
Oh, I use it in everything, I've got two ideas and that's one of 'em. It's all over the place. It's in "Joy Division." Everything I do has a head, somebody talking with text floating in front of them or behind them.
In "Meeting People Is Easy," it's used along with a barrage of really absurd interview questions.
Yeah, sort of absurd. Just questions really — if you take them out of context, they're always absurd, or most the time, yes. That all happens from a two- or three-day period. It wasn't me going, let's find the most idiotic things from around the world. They sat in these hotel suites for three days, four suites booked up simultaneously, I've never seen anything like it. Maybe more bands do it more often now. They had 20-minute slots, or if it was a big paper, it'd be a 40-minute slot, and there were just journalists in holding patterns outside the door. It was crazy, so I was running around, leaving a microphone in one room, going and filming something in another. I wasn't hamming it up.
Have you developed a distaste for music journalism since then?
No, not at all, because it's kind of what I do as well. I'm not putting myself in a superior position. The best thing you can do in a documentary is show people, show what people do. And there was this real sense that everyone was doing their job. I know Thom [Yorke] was really interested in that idea at the time as well, because he was unhappy with their role at being on the other end of all those questions. Things definitely changed for them afterward. And I don't think people will ask a band like Radiohead those kinds of questions again so easily. If you show people themselves at work, then it makes them more self-conscious. I'm not saying all journalists are going to watch it, but it's what documentaries are supposed to do, show the reality of something. And then if that reality is uncomfortable, then maybe it changes a little bit.
You're obviously quite conscious of the effects of media saturation. I'm wondering if you grappled with this in your own work in this context, especially in that documentary where you're exposing it.
The funny thing is, at the same time that I thought I was nailing this newfangled phenomena of the multi-format, multi-outlet blitz — siphoning off the talent and putting them into a thousand different places, not just one magazine — it was the first time web sites were doing chats and all that sort of shit. I thought, this is just insane and it'll all collapse quite soon. And of course, it becomes the dominant celebrity culture, the dominant mode of how you deal with pop over the next decade. We were putting little surveillance cameras in the band's dressing room and it felt like we were working along the same lines as people who were developing reality TV. We were doing it in a slightly more arty way, but it's the same as "Big Brother," what we were doing with that band, seeing them locked in their bubble. "Radiohead Big Brother" is what I think of that film in a way.