Five Actor-Musicians Who Don't Suck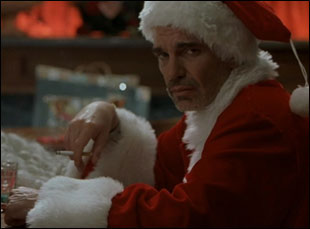 Posted by Brandon Kim on
"There's something about the guy that makes me uneasy. He's not going to say fuck stick in front of the children, is he?"
–John Ritter as mall manager Bob Chipeska, referring to Billy Bob Thornton's Santa Willie, in "Bad Santa"
When Billy Bob Thornton recently tripped out in Joaquin Phoenix-rivaling fashion on a Canadian radio interviewer, he inadvertently gave one the worst performances of his acting career — unless we set aside his inability to adapt and play along and judge that bitter character by how incredibly unsettling he was. In that case, it may well rank among his best. Thornton might as well have been wearing his "Bad Santa" costume during the painful exchange, in which he refused to answer or took umbrage to questions, repeatedly took host Jian Ghomeshi to task, swore, and insulted his host country. It's hard not to imagine there was some John Ritter-like station producer being consoled by a chain-smoking Bernie Mac-like sound engineer in a mixing booth with a pile of orange peels between them, as Thornton dug himself a deeper, more embarrassing hole by the second.
Though he comes off as off his rocker, Thornton did have reason to take objection to Ghomeshi's line of questioning — Ghomeshi had reportedly been instructed not to discuss Thornton's film career. You could be argued that Ghomeshi broke the trust between an interviewer and his subject right from the get-go, and without it, any interview is doomed. At least, it wasn't dull, though it doesn't seem to have helped Thornton's musical ambitions either. Referring to Canadians as "mashed potatoes but no gravy" isn't a good way to sell records or tickets, especially in a country that loves poutine. The remaining Canadian tour dates were canceled after the first post-interview performance of Thornton's band, The Boxmasters, where the country-rock act was met with a war cry of "Here comes the gravy!" (The official excuse was that members of the band and the crew had come down with the flu.) As for the music itself, despite The Boxmasters' interesting influences, they're not nearly as enthralling as their singer. Still, it's not impossible for an actor-turned-musician to be taken seriously for the latter without having to pretend that no one's aware of the former. Here are a few whose music is worth checking out.
Ryan Gosling's musical endeavors with his friend Zach Shields deserve real attention. What began as a shared fascination with ghosts (and Disneyland's "Haunted Mansion" ride) and grew into a theatrical project has now morphed into a band, with Dead Man's Bones being the strange and wonderful result. Shunning professional players and synthetic computer techniques, they sound charmingly amateur, like an early Sebadoh or Silver Jews record if it'd been cut outside in a cemetery. Gosling and Shields play instruments that they'd never picked up before and use a children's choir liberally throughout. A tour is scheduled and a record should be out sometime in September.
If rumors are true, Gosling is being eyed to portray Kurt Cobain in an upcoming biopic with Scarlett Johansson playing Courtney Love. Johansson already has some real-life experience as a singer. Her album "Anywhere I Lay My Head" received mixed reviews, but her 11-track collection of Tom Waits covers is certainly worth a listen. It has a few standout tracks, as well as some exciting guest singer appearances from David Bowie (!) and Tunde Adebimpe, sprinkles on a cupcake you don't need but maybe can't resist. TV on the Radio producer David Sitek keeps most of it interesting, if not as hard-hitting as Waits' originals.