Rock and Roll Hero: Brad Henry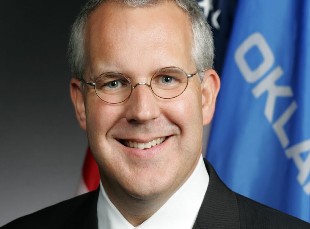 Posted by Jim Shearer on
What a roller coaster ride!
For the last month and a half I've been following the story about The Flaming Lips' song, "Do You Realize??", which was recently voted–by over 21,000 people–as the official rock song for the state of Oklahoma. The Lips' tune was in contention against nine other Oklahoma-born artists' songs:
"Heartbreak Hotel," Elvis Presley (co-written by Oklahoma school teacher Mae Boren Axton)
"Let's Have a Party," Wanda Jackson
"Walk, Don't Run" The Ventures
(above: Governor Brad Henry of the state of Oklahoma.)
"After Midnight," Eric Clapton (written and recorded by J.J. Cale)
"Never Been to Spain," Hoyt Axton (but made famous by Three Dog Night )
"Home Sweet Oklahoma," Leon Russell
"Oklahoma," The Call
"Move Along," The All-American Rejects
"Endless Oklahoma Sky," John Moreland and the Black Gold Band
After the votes were counted, "Do You Realize??" was named the official winner. Alas, my faith in music fans was restored! With young, internet-addicted teenagers–and considering the song is only a few years old–I thought the more mainstream-friendly, All American Rejects' "Move Along", was a shoo-in.
This morning though, it was reported by Pitchfork that The Oklahoma House of Representatives voted 48-39 against having the Lips' tune as their official state rock song.
Apparently the band's proclivity for obscene language and t-shirt choices offended certain representatives. (Fifty-one votes are required to defeat a resolution, but because it was the last day for the House to vote on measures coming out of the Senate, that piece of legislation wouldn't have seen the light of day until next year.)
Buuuttt–
All's well that ends well, because the Governor of Oklahoma, Brad Henry, came to the rescue–restoring my faith in state government as well!
This Tuesday, April 28, Henry will sign an executive order that will finally make "Do You Realize??" the official rock song of Oklahoma.
In a press release Henry explained:
For more than 20 years, Oklahoma's own Flaming Lips have produced creative, fun and provocative rock music. The music of the Flaming Lips has earned Grammys, glowing critical acclaim and fans all over the world. A truly iconic rock 'n' roll band, they are proud ambassadors of their home state. They were clearly the people's choice, and I intend to honor that vote.
Like Wayne Coyne sings in "Do You Realize??": It's hard to make the good things last. But at least the Governor of Oklahoma did something about it.