Gimme Some of That Midwest, Underground Hip-Hop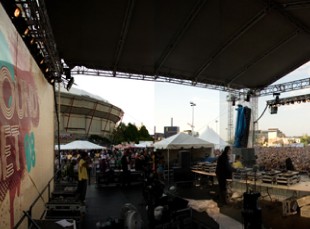 Posted by Jim Shearer on
Hip-hop was born in the Bronx, years later some said that the West Coast was the "best coast", and others could argue that the Dirty South made the most impressive mark on hip-hop in the 2000's.
Not to be outdone, Rhymesayers Entertainment–the Minneapolis-based label run by Slug of Atmosphere–is representing the Midwest with its underground hip-hop uprising.
Like they did last year, Rhymesayers will be throwing the biggest hip-hop party the North Star state has ever seen–Soundset '09.
Taking place on Sunday, May 24 (Canterbury Park, Shakopee, MN), Soundset '09 just announced their list of performers, which includes the original line-up of Pharcyde (nice!), a rare live performance from MF Doom, Brother Ali, Freeway joining forces with Seattle-based producer Jake One, Sage Francis, Def Jux's El-P with Mr. Dibbs and TMQ, P.O.S. (the artist behind my favorite hip-hop album of the year thus far), Aceyalone, and of course, Rhymesayers' own Atmosphere.
Is it safe to say that this will be the best live show that sweeps through the city of Shakopee this year?
Tickets for Soundset '09 can be purchased HERE.
Confirmed artists for Soundset 09:
Atmosphere
The Pharcyde
MF Doom
Brother Ali
Freeway & Jake One
Sage Francis with B. Dolan
Immortal Technique
P.O.S.
El P with Mr. Dibbs & TMQ
Eyedea & Abilities
Abstract Rude + Aceyalone & Myka 9 = Haiku D'Etat with DJ Drez
Prince Paul
Buck 65
Blueprint with DJ Rare Groove
DJ Numark
Heiruspecs
Cunninlynguists
Blue Scholars
Sims of Doomtree
One Be Lo
I Self
Devine
Awol One
Mike Mictlan & Lazerbeak = Hand Over Fist of Doomtree
Toki Wright
Grieves
Unknown Prophets
Lil Buddy Mclain
Just.Live
Kristoff Krane
El Guante
Plain Ole Bill
BK One
King Otto
DJ Nikoless.