Down From "The Wire": TV's Most Talented Cast Makes Its Way to the Movies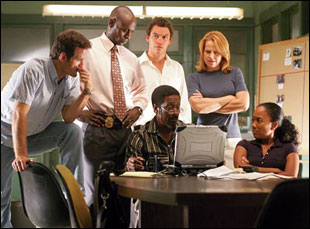 Posted by Matt Singer on
On his DVD commentary for the pilot episode of his television show "The Wire," creator David Simon describes the series' objective. "It seems to be a cop show," he says. "But we were actually trying to mask something different within a cop show…It's about how institutions have an effect on individuals and how… you are ultimately compromised and must contend with whatever institution you have committed to." The milieu of Simon's marvelous serial was the working classes of Baltimore: the cops, drug dealers, lawyers, public school teachers, longshoremen and so on. But since "The Wire" went off the air after five seasons on HBO, the struggles of most of the show's incredibly talented cast within the institution of Hollywood has only served to prove the universality of Simon's theme.
Granted, it's only been a year. But so far, the show's veterans have been popping up in films that have only served to illuminate the depressing gulf between the level at which Simon and company were operating at and the one at which most of mainstream Hollywood does. Granted, "The Wire" had 60 hours to develop its characters to a typical movie's 90 minutes. But when an actor from the show appears in a mainstream film in a role similar to the one they portrayed in "The Wire," the contrast is often shocking.
Consider, for example, the effect of putting Jamie Hector into one scene of "Max Payne." Over the course of the final three seasons of "The Wire," Hector played one of the series' main antagonists, a brash and ambitious young drug dealer named Marlo Stanfield. Stanfield distinguishes himself from his peers with his intelligence and cold-blooded brutality, and Hector distinguished himself as an actor with his icy intensity and withering glare. In "Max Payne," Hector plays a brash young drug dealer named Lincoln, though that's where the similarities to Marlo end.
Mark Wahlberg's title character comes to Lincoln looking for information; Hector plays the scene seated behind a desk covered in assault weapons, punctuating his dialogue with exaggerated gestures with a knife and sheath he holds in each hand. The scene, though a bit over the top, isn't entirely out of context for the video game-inspired world of "Max Payne," but when compared with "The Wire"'s verisimilitude, the results are almost laughable. That's no fault of Hector's, of course, and at the very least, the scene proves he's a genuine actor; Hector is so good as Marlo — so unrelentingly cold and hard — that you might have mistaken him for one of the numerous members of "The Wire" cast, like Felicia "Snoop" Pearson, who are survivors of Baltimore's real drug war and who are playing fictionalized versions of their own lives. Hector most recently appeared in a multi-part guest spot on the NBC series "Heroes."
Television actors often struggle to shed the small-screen identities they become associated with — think of the struggles of the "Friends" cast as they moved into the world of film. But the cast of "The Wire" were so good at their jobs that they've made their post-series careers that much more difficult. Personally speaking, I have real trouble watching Michael K. Williams in films without thinking of his incredible performance as Omar Little, inner city Baltimore's answer to Robin Hood, a principled gangster who only steals from other gangsters and whose exploits have lent him near-mythic status: kids on street corners in Baltimore "play Omar" the way kids in the suburbs might play "Power Rangers."
Williams, who has a distinctive scar bisecting his face, brings palpable ferocity and a convincing air of invincibility to the part — after a few seasons, he's convinced the audience he's unkillable, just like he's convinced the rest of Baltimore. Which is why it's so hard — almost painful — to see Williams in a role like the one he tackled in Spike Lee's "Miracle At St. Anna." He appears in beginning of the World War II flashback, as a terrified Buffalo Soldier who repeatedly screams "Kill me now!" as his unit trudges into an ambush where he's promptly granted his wish. Williams imbues his brief appearance with all the emotion he can muster, but playing such a pathetic creature seems like conduct unbecoming the man who brought to life one of the greatest badasses in television history. Hopefully, Williams' role in the upcoming adaptation of Cormac McCarthy's novel "The Road" takes better advantage of his gifts.