Conor Oberst Donates A Film (Watch It Now)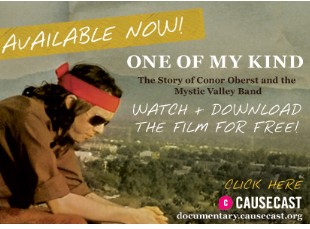 Posted by Jim Shearer on
Today, Conor Oberst and his Mystic Valley Band, have released their brand new documentary, One Of My Kind, which is being presented by Causecast (where you can watch and download the film for free).
One of My Kind was made by the group's guitar tech, Phil Schaffart, and follows Oberst and the Mystic Valley Band as they travel around the globe and make their first two studio albums together–last year's Conor Oberst and the forthcoming Outer South (due out May 5).
(left: Watch Oberst's new documentary and support a worthy cause, at the same time.)
Oberst donated the documentary to Causecast–which has been dubbed a "one stop philanthropy shop"–in hopes that fans will donate to many of the charities supported by the site.
Here's an exclusive performance of Oberst performing the title track of the documentary.