Cillian Murphy Takes to "The Water"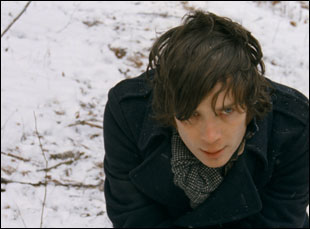 Posted by Brandon Kim on
Cillian Murphy is the kind of guy who can call himself Kitten, put on a dress, make you believe he's a girl, then make you forget everything else. His repertoire's impressive and he is, like his characters, unquestionably memorable. Maybe it's the eyes, maybe it's the voice, but even his sinister roles are strangely comforting — something very genuine always comes through Mr. Murphy, a welcome exception in an era of green screens and Ponzi schemes.
His latest role is an unusual one, in a semi-experimental short film called "The Water," inspired by the Feist song of the same name. It was directed by Kevin Drew, best known for his band/collective Broken Social Scene (of which Feist is also a member). "The Water"'s a beautiful, nearly wordless piece that weaves a fixation on a wintry landscape with Feist's song and a sad sort of fairytale. I called Murphy in Ireland to talk about the film and learned his family was mourning the loss of a loved one. Still, he set aside time to talk about the project, about conveying emotion through silence, and the ineffable mysteries of the human mind.
I read that you're tight with Kevin Drew and Leslie Feist — is that how you became involved in the film, or were you approached before, and the friendship grew out of it?
Basically, I've been a fan of both Broken Social Scene and Feist's music for a number of years now. I went to see Broken Social Scene play in London three years ago, maybe a bit longer, and met Kevin afterwards, briefly, and we kind of got on. A year or so later, he interviewed me for Under The Radar magazine, and we just stayed on the line after the interview. He said "Listen, I'd love to send you this thing I've been thinking about." It was just before [Feist's solo album] "The Reminder" had come out, I still hadn't heard the record, and when I did, I thought it was just incredible. He told me about that song and said he had this idea. With the producer, Jannie [McInnes], they managed to pull the whole thing together very quickly, and all of the sudden it was "We're gonna do it, can you come to Toronto in two weeks?" And I was like, sure, let's do it. We shot it in like two days. There was never a script [laughs]. It just came about and I'm really proud of it.
Your character is interesting, clearly troubled by the goings on, stepping out for smokes, reluctant, anxious. Tell me about him.
I don't really want to talk too much about it because I think it's nicer when people take what they want from the piece. Without sounding too artsy fartsy, it's a musical poem and you can take from it what you want, so I'm loathe to kind of give away my interpretation of it. But I think he's very close to his dad, and his dad has had this loss in his life and so he's trying to facilitate his dad reconciling himself to that loss, and unusual things happen! The way Kevin spoke about it — everything is very musical, the way he talks about it — and it was all about emotion. And I love that. It wasn't at all intellectual, it was just about feelings.
Yeah, the union of the music with the film is interesting to me…so you were highly aware of the song, stepping into the mood of the performance?
What appealed to me most about it when he told me about the idea [was that he said] this is going to be for all intents and purposes a silent movie. I think there are like four words of dialogue in the film, and I love that, the fact that you've got to act or convey emotion, just silently. It's the hardest test of any actor, I think. Obviously, music then combined with that — that's why music works so effectively in film when it's done right. It can really just magnify emotions, and people feel or can identify more clearly [with] what's happening with the characters.
Speaking of this and given the title, "The Water," it's interesting you actually see no water in the piece.
[laughs] No, it's all frozen.
It's often called ice. [laughter] What's your take on the notion that water is often used to represent life, and ice its absence?
There are lots of things you can draw from it, because life [has been] suspended, shall we say, in my mother's character [played by Feist]. When stuff is frozen, it's suspended and frozen in time and all that. But again, I think people can take from it what they will, they may take nothing or they may take innumerable things. You've got to be very careful with something like this because it's so delicate really.