What to Watch If Not Watching the "Watchmen"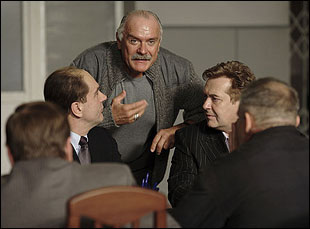 Posted by Neil Pedley on
Some homegrown interloping mixes with a strong international showing this week to give an overall balance to what's playing at your local multiplex. Comic book fans can salivate over "Watchmen," arthouse fans can enjoy a Louis Garrel double bill, and a Four Horsemen of the Apocalypse-inspired serial killer movie bridges the gap.
Subscribe to the In Theaters podcast: [XML] [iTunes]
"12"
A best foreign language Oscar nominee from 2008, Russian director Nikita Mikhalkov's interpretation of the Reginald Rose's 1954 play "Twelve Angry Men" puts a contemporary political spin on this classic tale of passion and prejudice. Tasked with discerning the guilt of a young Chechen boy accused of brutally murdering his military officer father, Sergei Makovetsky plays the lone voice of dissent voting for acquittal. As the audience witnesses the boy's unfortunate childhood in flashbacks, Makovetsky's mysterious juror preaches rationality and reason as he attempts to convince a room full of his peers of the boy's innocence one by one. In Russian with subtitles.
Opens in New York on Wednesday, March 4th.
"Everlasting Moments"
Swedish auteur Jan Troell returns with this studied piece of period miserablism, continuing his informal trilogy of films about turn of the century upheaval against the backdrop of the socialist revolution, beginning with 1966's "Here's Your Life" and 2001's "As White as in Snow." In a story inspired by his wife's grandmother, Troell tells of Maria (Maria Heiskanen), who finds respite from her humdrum existence under the tutelage of the solicitous Sebastian (Jasper Christensen), a local photographer who encourages her to employ the camera she wins in a lottery as a tool of intellectual independence as she toils to raise her seven children and keep tabs on her boorish, womanizing husband (Mikael Persbrandt). In Swedish with subtitles.
Opens in limited release.
"Explicit Ills"
Premiering at last year's SXSW Festival where it scooped a trio of awards, actor-turned-writer/director Mark Webber's directorial debut is a disparate ensemble ramble through an impoverished South Philadelphia neighborhood that seems to genuinely have something to say. With a cast of largely unknown actors augmented by indie starlets such as Paul Dano and Rosario Dawson, Webber delves deep into modern life on the breadlines, orchestrating a multi-stranded story of those living a hand-to-mouth existence in South Philly where kindness and compassion often take the place of actual currency.
Opens in New York; expands to Los Angeles and Philadelphia on March 20th.
"Fados"
Born out of the immigrant slums of Lisbon in the early 19th century, Fado is a vigorous yet melancholic style of music reflecting struggle and promise that's been dubbed the "Portuguese blues." From the classical to the contemporary, from Reggae to hip-hop, Spanish helmer Carlos Saura traces the origins of the Fado (which literally translates to "destiny" or "fate"), exploring its development and continued legacy with his trademark fusion of music, dance and cinematic verve. In Portuguese with subtitles.
Opens in New York.
"Frontier of Dawn"
Veteran French helmer Philippe Garrel directs his son Louis in this throwback to the heyday of the French New Wave sprinkled with elements of the supernatural that charts the fine line between blissful intoxication and insanity. Garrel Junior stars as François, a young photographer left reeling following the suicide of Carole (Laura Smet), an actress with whom he had an affair. A year later, François is looking to marry and move on, but becomes plagued by visions of the ghostly Carole, beckoning him to join her in the land of the dead. In French with subtitles.
Opens in New York.
"The Horsemen"
Although some might have considered Jonas Åkerlund's druggie drama "Spun" a horror film, the music video vet is applying his splice-a-second technique to a real gruesome thriller this time, starring Dennis Quaid as an embittered detective investigating a series of viciously elaborate slayings whose characteristics mirror the exploits of the fabled Four Horsemen of the Apocalypse. (Probably a compromise for a film with designs on "Se7en," but having only the budget for two.) In what our own Matt Singer recently touted as one of the most anticipated performances of the spring, Ziyi Zhang co-stars as the mysterious woman suspected of masterminding the murders.
Opens in limited release.
"La Belle Personne"
Opening as the headliner for The Brooklyn Academy of Music Cinematik's tribute to our sister company IFC Films, "Love Songs" director Christope Honoré helms this modern-day retelling of "La Princesse de Clèves," the classic French novel of romance and scandal, which depicts the pain of growing up and the agony of unrequited love. Léa Seydoux stars as Junie, a troubled 16-year-old who catches the eye of all the boys at her new school and develops a friendship with Otto (Gregoire Leprince-Ringuet). But as Junie spurns Otto's clumsy romantic advances, she cultivates a forbidden romance with her Italian teacher, Mr. Némours (Louis Garrel). In French with subtitles.
Opens in New York.