Taking a Break with Tunde Adebimpe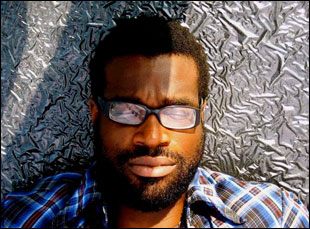 Posted by Brandon Kim on
Tunde Adebimpe may be best known for fronting the beloved Brooklyn band TV on the Radio, but he's a man of multiple talents. Schooled as a visual artist, he worked as an animator after graduating from Tisch. His first acting role was in a classmate's short, "Jorge" (1998), which became a feature, "Jump Tomorrow" (2001), all years before he ever cut a record. In his latest foray onto the big screen, Adebimpe played the groom, Sidney, in Jonathan Demme's "Rachel Getting Married." In a film filled with exceptional, sometime showy ensemble performances, Adebimpe still had a few opportunities to shine — it's Sidney's geeky charm during the dishwasher scene that makes its consequence heartbreaking, instead of just cheaply macabre. And one of the most beautiful moments in the film, and arguably the best "I do" in any wedding scene ever shot, is Sidney's winsome serenade to Rachel during the otherwise tense ceremony. I caught up with Adebimpe over email as he was off on the West Coast making more good things happen.
You're something of a renaissance man — an accomplished painter and animator [see the Yeah Yeah Yeah's video "Pin"], an actor and, of course, musician. What grounds you, or do you float freely between these passions?
I feel like I was really fortunate to run into a lot of working artists when I moved to New York in the mid-'90s, and the single piece of advice that all these people seemed to be giving me was, "Do everything that makes sense to you to do, and a couple of things that don't. Do everything." And this was when I honestly just wanted to be a cartoonist. I met people who did illustration, made large-scale artworks, films, videos and performance as well, so it seemed like and still seems like a natural mode of operation for me. Also, painting and animation are really solitary pursuits, so the collaborative aspects of music making and acting are pretty welcome sometimes.
Music is omnipresent in "Rachel Getting Married," and it's also all live and seemingly spontaneous, drawing the audience in with the characters as if we're all there together hearing the same thing at the same time. How did that musical set affect your performance?
That set, especially the Buchman household, was bristling with music from the time we showed up 'til we left. There were instruments all over the place, and a wedding band who also provided most of the soundtrack, much of which was recorded live as the action progressed. The way it affected my performance, and I think everyone's, probably, was that we had this music as another character in the scene to play with, or against. There's a scene where Kym (Anne Hathaway's character) breaks away from a very tense conversation and screams "Are they gonna play all fucking weekend?!?", in reference to what's essentially the film's soundtrack. Totally ad-libbed, kinda hilarious, expressing a very real concern.
What's your favorite piece of music in the film?
Zafer Tawil, who composed the soundtrack along with Donald Harrison Jr. plays a really haunting violin piece when Kym has just come home from a rehab center and is going through the rooms of the house she grew up in. It's super beautiful.
The film treated its diverse characters simply, as people, but I've heard criticism of its non-engagement of race. What are your thoughts on these complaints, and what did Sidney's relationship mean to you?
It's an odd criticism, primarily because that's not really the narrative focal point of the movie, and secondarily because I think the film engages race by actually presenting interracial relationships, romantic and otherwise, when it just as easily could not have. It puts a pretty broad cross section of various cultures in one place to interact. Everything after that is in the eye of the beholder, whether that beholder is in the movie or in the audience. Sidney's relationship, to me, meant that he had found someone to love in Rachel, and she in him, and they were going to try to make it work.