SXSW 2009: Tim McCanlies "Bobs" Into New Territory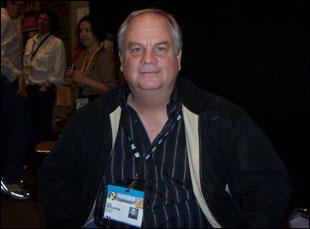 Posted by Stephen Saito on
Tim McCanlies once told me, "I find your average beauty-parlor-operator in Texas to be far more interesting a person than your average studio executive in Hollywood." He's putting that theory to the test by working outside the studio system for his third directorial effort, "The 2 Bobs," a manic comedy that premiered at SXSW to an enthusiastic local crowd and was made for a budget that likely wouldn't have paid for craft services on his last film, the Michael Caine-Robert Duvall family flick "Secondhand Lions."
After a career spent working in Hollywood from his home in Bastrop County penning such films as "The Iron Giant" and quietly creating The CW's long-running "Smallville," the Texan is doing an indie two-step — first with "Bobs," an Austin-set send-up of the video game industry about two game designers named Bob and their struggle to recover their most recent creation after it's been repurposed for virtual porn by an obnoxious spam king (played by Broken Lizard's Jay Chandrasekhar), and following up with "Alabama Moon," an adaptation of Watt Key's coming-of-age drama that hews closer to the writer/director's previous family-friendly oeuvre, but was funded almost exclusively by Southern friends and fans of the author. Between the big festival premiere of the former and a screening to investors of the latter, McCanlies talked about his latest film, video games and how one can easily obtain sex toys for a movie production.
Although the film is more adventurous on a technical level, did you also write the screenplay to be more experimental than you had been before?
In some ways. The script goes off in directions that most scripts don't. It starts off with a two-minute backstory to these guys, but it's all about the history of computer gaming and how it's matured. In a way, I wanted to do like a "Big Lebowski"-type story as if I was shooting "Trainspotting," so that was sort of my aesthetic going in.
I wanted to do something really fast-paced. The things I'd done were family films that are deliberately paced — the camera work, you stay back and don't call attention to the direction and I wanted to do something different. I wanted to be able to turn the camera upside down if I wanted to. I want to just go nuts, so it was fun to be liberated that way. And I wanted to shoot hi-def.
You definitely captured how Austin is both very low-key and very high-tech and you also mentioned at the premiere that the two Johns [John Carmack and John Romero, the video game designers behind "Doom"] out of Dallas were an inspiration for the title characters. How did those ideas coalesce into what eventually made it onscreen?
It just seemed like they would be interesting guys who were at the top of their profession, but it's such a narrow profession that no one else knows who they are. They're celebrities, but it's such a narrow world. They're very wealthy and yet they work 24/7 and haven't had dates. They probably have never gone out with girls. In a way, they're almost still living at home. To take them out of this comfortable environment and throw them into the real world just seemed like an interesting thing to do.
When you were pitching the story around, were people surprised by some of the raunchier aspects of the script?
When we first sent the script around town — and obviously, I'm known to be family film guy — they would get the script and go "Oh my God! You wrote this? It's so full of F-words." I had one executive say, "I probably would've enjoyed it more had I not known you'd written it." I'm not sure what that meant, but it didn't sound good. People would much rather I do family films. In fact, I just did another family film on the heels of "2 Bobs," but then other people read the ["2 Bobs"] script and really liked it.
First Look was going to give us $10 million before they imploded. It's a bit of an odd duck movie in that Hollywood's not familiar with the gamer subculture at all. They don't know what Twitter is. They didn't have a handle on a lot of stuff, but to me, it's like everybody knows geeky IT guys. Everybody hates spammers. It seems like there was enough cultural touchstones for everyone to get. We ended up shooting it ourselves here in Austin for little or no money, but interestingly, my crew were all twentysomething guys and girls who completely got it, totally bought this world, so fingers crossed, I think we're in really good shape.