The Sneak Song-and-Dance: Musical Scenes in Non-Musicals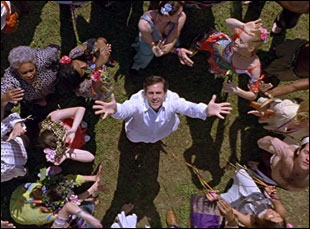 Posted by Michelle Orange on
As anyone who sat through this year's Oscars knows, according to Hugh Jackman, Beyoncé, and, well, that chick from "Mamma Mia!", musicals are back. It's a somewhat desperate refrain we've been hearing for almost a decade now, one that began with the success of "Moulin Rouge" in 2000. Since then, we've had "Chicago," "Dancer in the Dark," the "High School Musical" trilogy (going on tetralogy? — is anyone keeping count?), and "Nine," the "8 1/2"-inspired musical due out this year starring Penélope Cruz, Nicole Kidman, Daniel Day-Lewis and Marion Cotillard and directed by "Chicago"'s Rob Marshall. Still, Wolverine's claim is a bit disingenuous — look closely and you'll find that the urge in actors to break into song never really went away. Whether employed to inject life, fantasy, madness, movie-ness, or silliness, musical numbers have been showing up in non-musical films consistently over the years. Below are a few memorable examples, for those in need of a singing break.
"The 40-Year-Old Virgin"
If it's true that "The 40 Year Old Virgin" could have easily shaved off 20 minutes from its 116-minute running time (it's true), it is also true that not one second of those cuts should come from the seemingly superfluous finale, a dance sequence set to The Fifth Dimension's "Aquarius/Let the Sunshine In." Something of a release, if you will, following almost two hours of build-up and then the inevitably anticlimactic act itself, Steve Carell and co. don silky scarves and radiant smiles and cavort like hairy nymphs across a verdant hillside, loosely inspired by the song's first cinematic appearance in "Hair." With full-blown musicals — and the pleasure they were designed to express and give — mostly lying dormant in cinema's generic basement, musical numbers are often inserted in modern films for a hit of that pure visual and aural entertainment gilded by a post-modern veneer of irony; in this way we can acknowledge the effect these types of numbers are designed to have while being reassured that we are not the kind of people who would take unabashed, ingenuous delight in something as intellectually unchallenging and low-down hokey as a song-and-dance number. Judd Apatow's comedy, however, uses the musical's aesthetic as shorthand for innocence and exhilaration to sweet, hilarious, post-ironic effect; we are encouraged to engage with it fully, purely and without shame. (HBO's "Flight of the Conchords" tends to use musical sequences in the same way.) The entire cast channels their inner swirly hippies for the song with Paul Rudd and Seth Rogen making particularly fine, ebullient, endorphin-charged asses of themselves.
"Slumdog Millionaire"
The close to Danny Boyle's fantastical film that borrowed from any number of Holly- and Bollywood traditions is a dance sequence that runs over the credits. It takes place in a train station, where the reunited hero and heroine lead a crowd of dancers that includes at least one person the film killed off only moments before. The choreography is pure Bollywood, anyone-can-do-it kitsch, and also picks up on some of the moves busted by the young actors earlier in the film, who are themselves imitating their Bollywood heroes. The song it is set to A.R. Rahman's "Jai Ho" (which means "hail" or "hallelujah") — which, as it happens, won the Oscar for best song. It isn't the first time the two film industry cultures clashed — Indian director Mira Nair managed to insert a similarly exuberant Bollywood sequence into her 2004 adaptation of Thackeray's "Vanity Fair," in which Becky Sharpe (Reese Witherspoon) twitches and flirts for the appreciative Marquess of Steyne (Gabriel Byrne), a scene that might as well have been a corseted extension of the looser and more fun dance scene found in her previous film, "Monsoon Wedding."
"A Life Less Ordinary"
Danny Boyle strikes again, this time in his 1997 film starring Ewan McGregor as a working-class barkeep named Robert and Cameron Diaz as a rich heiress named Celine; an unlikely couple, they're united by two angels played by Holly Hunter and Delroy Lindo. Widely considered a disappointing follow-up to Boyle's 1996 cultural steamroller "Trainspotting," the highlight of the mostly dreary film is a karaoke number that segues into a full-blown musical sequence. Robert, a dreamer whose frequent ruminations we are privy to, gets up in a bar to do a karaoke version of Bobby Darin's "Beyond the Sea" for Celine, who soon joins in. The duo test out a few remedial steps before moving into the crowd, and as the song builds to the bridge where Boyle cuts to Robert, now slicked back and sleek in a black suit, and Celine, resplendent in a short, shiny blue frock. The two jump on the bar and kick out the rest of the jam: McGregor can actually hit his notes, something Baz Luhrmann surely took note of before casting him in "Moulin Rouge"; Diaz cannot — at all — but she moves like a dream, a gift that probably inspired her anomalous dance sequences in each of the "Charlie's Angels" films.