Slavoj Žižek's Film Criticism on Film, Charlie Kaufman's Autocritique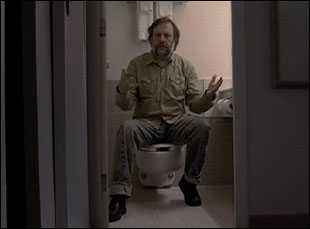 Posted by Michael Atkinson on
With the exception of Godard's largely-unseen (on these shores) "Histoire(s) du Cinéma," Sophie Fiennes' and Slavoj Žižek's "The Pervert's Guide to Cinema" (2006) might be the greatest piece of film-criticism-on-film ever made. That's not saying a pantload, of course; despite the obvious potentialities and the seductive pleasure to be had in perusing film history in powerhouse visual swatches, it's not even a subgenre, beyond the boosterism of promotional docs and Todd McCarthy's "Visions of Light." The "video essays" by critic Kevin B. Lee constitute a pioneering version of the idea, despite the entire corpus being dropped for a while from YouTube thanks to copyright protests. Otherwise, the closest we have is the now ubiquitous audio commentary track that accompanies virtually every movie on DVD, the likes of which are sometimes sublime (when they're performed by spirited critics and scholars, mostly, like Žižek's on "Children of Men") and often unendurable (with the glaring exception of Martin Scorsese, directors can rarely speak cogently about their own work). Either way, audio tracks are restricted to running the whole course of a single uninterrupted feature. What Fiennes and Žižek have dared to do is simply illustrate what amounts to a semi-interactive lecture on Lacanian psychoanalytic theory illustrated with film clips — which sounds dull, but Žižek, Slovenian lisp-monster that he is, is world-renowned for a reason: he's a terrific communicator, popularizer and provocateur as well as an interpretive idea volcano.
"Lacan" is never mentioned in this three-part, 2.5-hour tour through popular cinema, but Freud certainly is, and the inexperienced would do well to see it twice and assume that virtually every utterance out of Žižek's spittle-firing mouth is a concept worthy of another half-hour of exegesis. A good liberal arts bachelor's degree grasp of Freudian psychoanalysis is pretty much essential, but otherwise you just need eyes: Žižek's hand-holding walks through entire chunks of "Blue Velvet," "Psycho," "Vertigo," "The Matrix," "The Great Dictator" and "The Conversation" are never less than a blast, because Fiennes contrives (through clever set-building and Remko Schnorr's digital cinematography) to place the always anxious, always splenetic Žižek literally within the films' scenes, watching Isabella Rossellini's demi-rape in "Blue Velvet" from the couch, or the writhings of Linda Blair from the corner of the arctic bedroom in "The Exorcist," and often talking over the action.
The subject here, for the most part, is sex, but Žižek's approach is refreshingly untheory-like: instead of the non-canonical, abstruse, navel-gazing insularity of most theory, we're presented with formulations that extend and heighten the meanings of the films, and the achievements of the filmmakers (whom Žižek, rather un-post-structuralistically, gives full credit for the Freudian manifestations in their work). That is, the films aren't simply cult-stud specimens without authors, but cataracts
of desire and fear that illuminate our own relationship with sex and its discontentments. Except perhaps when he's pointing out how Gene Hackman in "The Conversation" seems to be literally examining the scene of the murder from "Psycho" (a painfully obvious inter-film connection I never noticed before), Žižek is all about how the films literally and profoundly "teach us lessons," symbolically, about desire, about subjectivity, about the strange but universal need for sexual fantasy (and how it's expressed as the voyeurism of cinema-watching), about our conflicted relationship with the sexual significance of various body parts.
Unlike most theory, "Pervert's Guide" relates directly to our pleasure in watching movies, and to our ideas about our own behavior. Of course, a percentage of what Žižek says is half-conceived and presumptuous, as when he declares that women's sexual pleasure only comes after the fact, in contemplation of the act. But his juicy bon mots are always challenging ("I want a third pill!" he declares, in view of "The Matrix"'s inadequate dichotomy between illusion and reality). At the very least, those of us who've only seen "Vertigo" or "Lost Highway" or Tarkovsky's "Solaris" once long ago will be inspired with a convert's fervor to sit down and reevaluate them with new eyes.