Marc Webb and Joseph Gordon-Levitt, The Boys of "Summer"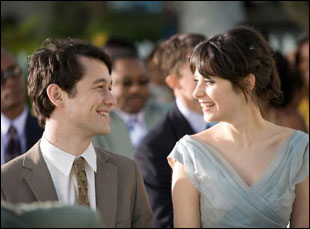 Posted by Stephen Saito on
If casting Joseph Gordon-Levitt right off heavy-duty roles in "Stop-Loss" and "The Lookout" wasn't enough of a tip-off, the fact that Marc Webb comes into an interview clutching a copy of Norman Mailer's "The Deer Park" is evidence enough that his directorial debut "(500) Days of Summer" isn't your typical romantic comedy. In fact, while some at Sundance hailed the film as an "anti-rom com," it'd be easier to classify simply as one of the most satisfying boy meets girl tales to come down the pike in a long time. The boy in question is Tom (Gordon-Levitt), an aspiring architect killing time penning platitudes for a greeting card company, where he meets Summer (Deschanel), the type of dream girl whose yearbook quote comes from a Belle and Sebastian lyric and will look at a porno and muse, "that looks doable." But though their relationship begins as the two bond over The Smiths in an office elevator, Tom and Summer spend the following 499 days in a romance varying between the soaring heights of Johnny Marr's guitar riffs and the melancholy of Morrissey's most solemn vocals, jumping back and forth in time. Drenched in pop culture, the film lends itself to Webb's unique visual sensibilities that made his music videos so memorable — there are split screens, musical numbers and even references to "Small Wonder." And for Levitt, it offers a change of pace, but one that also plays to his strengths as an intuitive everyman. Both were on hand in Austin for the SXSW premiere of the film and spoke about how "(500) Days of Summer" is a film for our times, L.A. architecture and just what one can call their latest film.
Marc, when you directed the video for My Chemical Romance's "I'm Not Okay," there was buzz about you as a feature filmmaker since "Okay" worked as a great faux trailer for a teen comedy. I imagine you were offered a bunch of teen comedies and horror remakes, so what was it about this film that appealed to you?
Marc Webb: Certainly the My Chemical Romance stuff gave me access I hadn't had before. I didn't have a pinpointed agenda when it came to doing a movie. If you do music videos, because they're typically aimed at teenagers and the pop music market, you get all these teen movie scripts or, like you say, horror remakes, and I was a bit reluctant. Nothing really caught my eye. The one thing I knew I didn't want to do was a romantic comedy because I felt like I didn't have any connection with those.
There are a lot of good scripts that aren't special, that don't have their own identity. They're just form-fitting melodramas, and "(500) Days of Summer," when I read it the first time, it just made sense to me. Up until that point, I was in a zone just doing video after video after video with different kinds of artists, which was fun and a really exciting time professionally. But there got to a point where the music business was spending less and less money on videos and it's becoming harder to do something different and grow, so I felt the added pressure to start doing movies.
Not to harp on the music video thing, but how did making videos and working a music clearances gig on the Seattle grunge rock doc "Hype" shape your vision for this film, in which music is so integral to the story?
MW: A few songs were written into the script for "Summer," but I was never the music fanatic that obviously the people at The Playlist [where Webb recently wrote a detailed track list of the film's soundtrack] are, or that a lot of my friends are, or even [screenwriter] Scott Neustadter was. I was really into theater when I was in high school and that was just where I came from. So it comes more from a utility perspective — it just helps the image flow. Doug Pray, who directed "Hype," I remember watching him edit certain sequences and the way he put music down with the image, how he'd put it under dialogue and how it would serve to drive things forward — you can do so much with that. You can also rely on it too heavily and then it becomes sort of a collage rather than something that drives the narrative, but where they collide is a really interesting space.
I've read that before you pitched the film you presented a map to the actors — what did that consist of?
MW: The scroll! It was a scroll. I was going in to meet people to convince them that I could do the job, so I plotted out the 500 days in order, because it's told out of order. I wanted the actors to be able to tell where they were in the context of it, because not only do you shoot out of order, but the story's told out of order, [making it] confusing to see where their emotional train was, what stop it was at.
A particularly striking aspect of the film was how you shot Los Angeles, a place where it seems romance goes to die in the movies. Were these some of your favorite locations or were they already in the screenplay?
MW: Originally, the screenplay was set in San Francisco, but as we approached shooting, we found out we could shoot in Los Angeles, which was a benefit for crew and for financial reasons, but also ended up being a boon creatively. When you shoot music videos, you shoot downtown Los Angeles as sort of a generic urban center and it's usually decayed. There's a lot of alternative bands that rock out in the Alexandria, which is a downtrodden hotel, so I'm very familiar with it, but it's surprising how interesting and beautiful a lot of those locations are. It comes from Tom's point of view — he looks into the past to find meaning and beauty. That's what he does in his architecture and in his relationships. There's this layer of downtown that's been forgotten — it's kind of gross, but also very beautiful if you look underneath the surface, so it fit metaphorically.
Some have called the film an anti-romantic comedy, but the film can't easily be categorized into a genre — what would you call it?
MW: We use a lot of the romantic comedy conventions. Technically it's more of a coming of age story. It's a pop movie — it's there to make you laugh, it's not about war or violence. It's about love, which you can turn your nose at sometimes, but I think as long as people watch it on its own terms, hopefully they'll like it.