SXSW 2009: Not Bradley Beesley's First Rodeo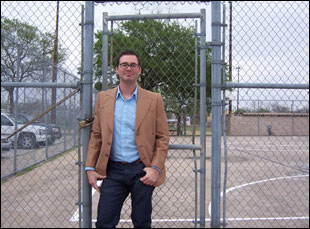 Posted by Stephen Saito on
Outside of his ongoing collaboration with The Flaming Lips, Bradley Beesley last tackled the great outdoors with the bare-hand fishing doc "Okie Noodling," which premiered at SXSW in 2001. Eight years later, Beesley is once again casting his lens on a sport of a bygone era, though this time he's stepping indoors — as in the big house — for "Sweethearts of the Prison Rodeo," a look at the Oklahoma penal system's annual bullriding and horse wrangling competition. Although the prisons take the rodeo quite seriously, complete with in-house saddle shops and mechanical bulls to practice on, no one seems to take it more seriously than the prisoners themselves, who look forward to every August when their minds shift from how much time they have left in their sentence to how long they can stay on a bucking bronco.
Beesley, on the other hand, is far more interested in the inmates than the rodeo action, following a mix of male and female convicts who all have a reasonable shot of parole during the course of the film. There's Danny Liles, a convicted murderer working his 18th year at the rodeo as well as attempting to reduce his sentence; Jamie Brooks, who was convicted at the age of 17 of 2nd degree murder for her role in a botched robbery; and Brandy "Foxie" White, an inmate who provides one of the most compelling stories as she searches for her family members with the help of a private investigator. During a break from celebrating the film's premiere in Austin, Beesley talked about how he became interested in the female inmates of Taft, Oklahoma's Eddie Warrior Correctional Facility and living out a childhood dream of going to the prison rodeo.
How did this film come about?
I grew up in Oklahoma, so I knew about the prison rodeo and always fantasized what it would be like to go, but I was a suburbanite, and even though my grandfather was a world champion cowboy, my dad never took us to rodeos of any kind. In 2006, I heard that they were going to allow female inmates to participate, and I was like, I've got to do it. I booked a flight that night, showed up with my camera and my buddy James. We had no idea that we were going to develop this into a feature-length project, but we were so emotionally struck by these inmates and their stories that we were just compelled. Ultimately, it's a character-driven piece, and the rodeo is a visual palate in which the characters could play.
Since you grew up in Oklahoma, do you think this is the kind of event that could only happen there in this day and age?
And Louisiana. [laugh]
Yes, the film mentions that there were two places in the world that still hold these.
The other one's in Louisiana. Texas closed their prison rodeo in 1988 due to lack of funding, but it's kind of impossible that it still goes on and unbelievable that it's allowed, but I don't necessarily think that's a bad thing. It just seems like such a throwback, it surprises me that it hasn't completely shut down.