SXSW 2009: "How Did We Get Away With That?"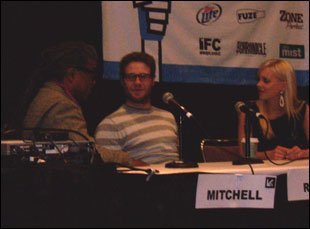 Posted by Stephen Saito on
"This movie's a comedy, I guess," director Jody Hill said in his introduction to "Observe and Report," the Seth Rogen-starring entry into the burgeoning mall cop genre. If Hill wasn't quite certain about what he had on his hands before the film played to a packed Paramount Theater, he could rest easy after the "weird-ass" character study pretty much killed it (both figuratively and all too literally at times, as Alison Willmore noted in her review on Indie Eye). By Tuesday morning, Hill and cast members Rogen, Faris, Michael Pena and Danny McBride were at the Austin Convention Center for a panel moderated by film critic Elvis Mitchell, who opened up the discussion by asking Hill, "what made you think the world needed a comedic version of 'Taxi Driver'?" (Later on in the panel, Rogen belatedly responded by asking in return, 'What if Albert Brooks was the star of 'Taxi Driver'?")
Scorsese's classic about alienation and self-loathing came up quite a bit as a touchstone for Seth Rogen's mall security guard during the hour that followed, though the panel could've easily been called "Observe and Report: How We Got Away With It." As the audience at Monday night's screening could attest, the film is pretty shocking for a studio comedy, both in how graphic some of the violence and full-frontal male nudity is (the film's main villain is a mall-lot flasher) and the unconventional rhythm of the punchlines, a particular tone that Hill has cultivated since his first film, "The Foot Fist Way." Faris said at the panel that though she prides herself on being brave, she was sure a few of her scenes would be toned down, including a sex scene with Rogen where her character Brandi is passed out with a streak of vomit on her bed after mixing tequila shots with pills that she was convinced Warner Bros. would cut. "My parents will never see this," the actress thought, though if she was talked into it by Hill, she did get minor revenge on the writer/director by inadvertently mentioning that the trainwreck Brandi was based on one of his ex-girlfriends.
Although the confession made Hill blush, his face was red throughout the panel, mostly from laughing. Rogen, in particular, got the panel crowd going when talking about the debates of how much to show of the flasher, saying that in his initial conversations with Hill, he didn't want to studio to "get weird that's there's going to be dick all over the screen," before sagely adding, "Comedy's going dick. I've been saying that for years. The sphincter's next." Though the role of the flasher ultimately went to his "Foot Fist Way" production designer Randy Gambill, McBride joked that "I really wanted to play the flasher, but Jody said my dick wasn't small enough." (As for the small role McBride does have in the film, it was revealed that it was "Foot Fist Way" co-star Colette Wolfe who came up with the inspired suggestion for his drug dealer character to have a ridiculously realistic tattoo of his son on his chest, after seeing prison inmates with that kind of ink — Mitchell had to walk off the stage in laughter after hearing this.)
But all kidding aside, Faris started the most interesting dialogue about the film, mentioning that she had to audition for the role and loved the fact that this was the rare comedy that "didn't make apologies" when most comedies she sees are all "about making apologies," whether it's having to fall for the right guy in a romantic comedy or saying sorry for a silly pratfall. When Mitchell prodded her for her original vision for "The House Bunny," Faris said that her story idea, which Hill said he thought was "amazing," involved being a Playmate, but she was also a druggie who was kicked out of the mansion and had to retreat home to a small Christian town with plenty of abusive relationships. Rogen said that he too was concerned with the state of female characters in comedies, relating a story about getting a torrent of studio notes when a female character does something even slightly questionable in one of the scripts he's done with his writing partner Evan Goldberg, while the men can do "get away with pretty much anything."
Things became slightly more cerebral as Todd Haynes and Richard Linklater took to the stage for one of SXSW's "Conversation" series, though this particular talk had clearly been started the night before when Linklater arranged a special screening of Haynes' long-banned Karen Carpenter biopic-by-way-of-Barbie-dolls, "Superstar," at the Alamo Ritz. The two filmmakers have been friends ever since meeting at New York's IFP film market in 1988 and traded bootlegs of Chantal Akerman and Rainer Werner Fassbinder films ever since. Both laid back and far more into talking about film theory and films they admired than filmmaking, Linklater and Haynes often stopped to consider how much alike they are and in fact, their careers have been loosely intertwined as Haynes signified with a particularly amusing anecdote about how when his 1991 drama "Poison" played the Nuart Theatre in Los Angeles, he and the theater manager were thrilled to discover Madonna buy a ticket for the film, only to have her walk out when the trailer for Linklater's "Slacker" played and the joke involving a woman trying to sell what is claimed to be a Madonna pap smear had the pop singer storming out of the theater. Linklater considered them even as Haynes related how Linklater took a date to a screening of Haynes' "Safe" and things didn't go well since she was a hypochondriac to begin with.