SXSW 2009: "Brock Enright: Good Times Will Never Be the Same."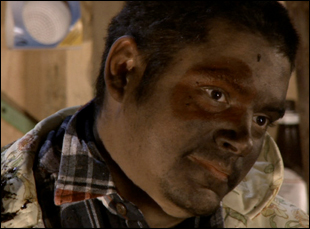 Posted by Alison Willmore on
After watching "Brock Enright: Good Times Will Never Be the Same," a documentary about an artist preparing for his first New York solo show, I got into a fight. Two of us who'd seen it loved it, others had disliked it, and one insisted it was a travesty of a supposed nonfiction film that had to have been completely complicit and staged. I don't agree, but the more I dwelt on it, the more beside the point it all seemed. Brock Enright is the kind of guy who'd never forget that he's on camera, and who'd act equally outsized whether director/DP Jody Lee Lipes had storyboarded each scene with him in advance or, as he says, captured it all vérité-style as it unfolded.
The problem, if you want to look at it that way, is that "Brock Enright" doesn't contain the visual cues we associate with docs. Lipes, who's responsible for the remarkable cinematography of "Afterschool," frequently shoots on a tripod, his composition careful and lovely, qualities that, combined with the natural staginess of his subject, can give the film the air of a rarefied relative of "The Hills." Which, you know, awesome. Like so many other people who end up on the pointy ends of cameras these days, Enright's major talent seems to lie in convincing people he does in fact have talent, the art he makes a muzzy mix of provocative video installations and pile-of-trash/installation conundrums he's unable to explain the meaning of to his not entirely convinced patron. "It has to be one of those things where you don't know too much what you're getting yourself into, because then you could be fighting something that could be better than what you were thinking of doing, so I'd rather not know what I'm doing," he tells the camera at the film's start, and you believe it right through the end.
But Enright, who made a name for himself in 2002 designing kidnapping experiences tailored to a client's worst fears, knows that the best way to convince people of your genius is to couch it in a solid dose of crazy — when someone from the gallery comes to visit the Mendocino house at which he's camped, he all but holds her hostage until she agrees to secure more funding for his work. Meanwhile, his girlfriend and collaborator keeps harshing his mellow by pointing out that they don't have enough money to pay rent when they get back to Brooklyn, and her family, which whom the pair are staying, are unimpressed by his painting his body white and dancing nude in the forest in the name of his craft.
The show does go up — it was reviewed in, among other places, the New York Times — but we never see it in the film, the shot we instead get a slow artist's-eye-view of the crowd at the opening, smiling, taking photos. It's tempting to read the omission as a dismissal, on Lipes' part, of the final product, and certainly "Brock Enright" comes across as a very good film about a subject who's less so, but it's probably meant more to reinforce the film's focus on process. A coda taking place a year later reveals a development in sly close-ups of materials around an apartment that could in the same way be read as doomed or a sign of progress. Optimist that I am, I'd prefer to think the latter, and that what we've witnessed is a portrait of the artist on his way to becoming a tolerable human being.