Steve McQueen Touches History in "Hunger"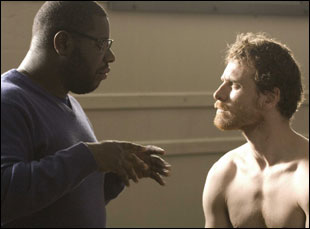 Posted by Aaron Hillis on
Turner Prize winner Steve McQueen's films aren't usually projected in movie theaters but on gallery walls, so it wasn't shocking that the British artist's directorial feature debut — a horrific yet lyrically abstracted depiction of the 1981 IRA Hunger Strike in Northern Island's Maze Prison — was artful enough to win the Caméra d'Or at last year's Cannes Film Festival. Unveiling characters and story through details, "Hunger" is also sparse on dialogue, except for the film's ambitious centerpiece, a 15-minute conversation on morality (in just two shots!) between strike figurehead Bobby Sands (boldly played by Michael Fassbender) and his priest (Liam Cunningham). During last year's New York Film Festival, where the film had its North American premiere, I chatted with McQueen about memory and senses, history, actors' words — plus a touchy subject I maybe shouldn't have addressed.
In your director's statement, you said you wanted to show "what it was like to see, hear, smell and touch in the H-block in 1981." How do you approach the "smell and touch" part of that in this medium?
Well, it's just a case of being particular with detail. It's all about the essence of situations that can translate to audiences, using the camera in a way that's almost like being blind. What I mean by that is using the camera like fingertips, feeling your way through a situation in order to make language as such. [With] a camera, you can address information that usually doesn't get looked at. It's about how you want to illustrate rather than investigate. For example, when Raymond, the prison officer, is eating his breakfast, we cut to him brushing the toast crumbs off of his napkin. Another example: the maggots, [seen] when one of the prisoners is sleeping. Another example is the colorization of film stock. These little details within the film translate hopefully into something bigger than what has been shown on screen. It's a trigger that hopefully relates to your memory or your own recent past.
Speaking of which, you came to the project based upon the image of Bobby Sands that you remembered as a kid. Do you regularly attempt to realize your own cloudy memories?
No, things can go in different ways. It certainly resonated with me. The situation wasn't, as a child, a clouded memory. As a child, it is a sensation. Someone appears on the TV screen, with a number underneath his image, and every day that number gets higher. The whole idea that this person could allow this through not eating was odd for me at 11 years old. Nothing going in, but could go out. So it's one of those situations where it resonated. I think most artists, filmmakers, and writers have something that sticks with them. Maybe it's as an 11-year-old or as a 38-year-old man, it doesn't matter. It has to stick.
Impressionism. Minimalism. Do you feel these words typecast your work when people write about your work?
I believe in cinema. I like the word cinema. [laughs] You know, whatever works. Cinema is what works, it's not a movement or particular strategy. If it works, it works. Minimalism, hmm. Expressionism, hmm. I think you can find both of those words in westerns and John Ford movies. You can find those words in Antonioni movies. You can find them in Spielberg movies. To me, the word is cinema. That's the most important word.
One of Bobby Sands' goals with the hunger strike was to get people's attention. Could you discuss your thoughts on film's importance as a proponent or tool of recording history?
It's not of much importance at all. What it does is stretch [history] for an hour and a half, and then moves on. I mean, this is not a historical record. This is not a truth and reconciliation. The situation is not quite as important, far from it. It's a bit of entertainment. Hopefully, a little bit of higher thinking entertainment. That's about it. It stretches for an hour and a half. If it raises a debate, well great, but as often is the case, it just passes through and that's it. Maybe it knocks people's memories and brings back certain thoughts, but that's as much as it possibly can do. I don't have high hopes for this movie in any other way than to engage people for an hour and a half, and then get back to their daily lives, getting kids to school and going back to work.
It's a very tricky script, told from a fluid array of different perspectives, and the near-wordless third act must've been hell in the editing room. Were there any creative goals that you strove for in attempting what could be called an experimental take on the biopic?
Again, it's very simple. It was a very organic situation, I just did it. I don't know scripts. I don't work with scriptwriters. I worked with a playwright and myself, who wrote the script. It wasn't a case of "tricky," it was just "let's get on with it." I'm not trying to make it modest in any shape or form or whatever, that's just how it was. Is there a right way or wrong way to write a script? I don't know. And if there is, I'm not interested. I just do what I have to do. As far as editing was concerned, it was hunky-dory. I have no interest in how things are supposed to be. I'm interested in how one can use film as a medium, which can, of course, incorporate a narrative into it, but more importantly, in cinema.