"Severed Ways" is Black Metal Incarnate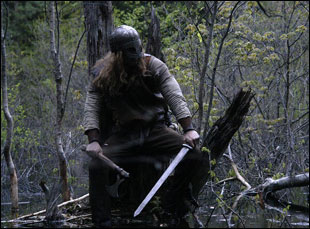 Posted by Brandon Kim on
Director Tony Stone's first feature "Severed Ways: The Norse Discovery of America" is, on its surface, a story about two Vikings marauding their way through the forests of the New World 485 years before Columbus did. But more than that, "Severed Ways" bears the spirit of black metal, crafted into an audacious movie between the hammer of an HD camera and the anvil of Stone's wild musings.
For the uninitiated, black metal is an angry, dark and tortured subgenre of heavy metal known mainly for the controversy it's inspired. Church burnings, murder, Satanism, Nazism — these are the shadows it casts from its origins in Norway. These horrors aren't just hyperbole on the part of detractors, but they don't illuminate the ideological movement from which the musical genre has sprung either. At its heart, black metal is a reaction to Judeo-Christian society from a people whose cultural roots reach deep into an earthy, mythic past. The music, like the film, is a raw exploration of Norse mythology and a rejection of modern Western culture.
Geographically, Scandinavia and Norway in particular were isolated from Christian influence longer than the rest of Europe. Christendom took its continental hold when Constantine made it the state religion of Rome in the 4th century, but the Norse, not part of the Roman Empire, were kept in the dark (or spared from it, depending on your vantage point). For centuries longer, they retained their distinct brand of "paganism," and it still shows today.
Black metal is "made by people whose ancestors were Vikings, angry that their culture's been watered down," Stone said when I had the chance to raise the issue with him over the phone. "What's depicted 1000 years ago in the film is still happening today in Norway," he added, in reference to a conflict that erupts between the Norse duo and Christian monks they stumble upon between gorging on wild salmon and defecating on camera. Anti-Christian sentiment in Norway is very real. Those churches, which stood where there were once shrines to Odin, didn't burn themselves.
Burzum is probably the most notorious artist in the genre. Widely featured in "Severed Ways," he was actually convicted of arson in connection with several church burnings, along with the murder of another Norwegian musician. Of course, that's the extreme end of the spectrum, and not all black metal is violent, nor are a majority of its players. The heavier stuff on the soundtrack of "Severed Ways" may perturb the suspension of disbelief for some, but it does link the Vikings and their modern descendants to "the raw power of nature, its primitive screams," as Stone puts it. For all their dissonant brutality, the Vikings are in rhythm with nature, not dissimilar from Native Americans whose realm they intrude upon.
There's a calm and ambient strain of the genre, too, which is employed liberally in the film, along with Brian Eno and instrumental Krautrock band Popol Vuh, who scored several Werner Herzog films, a similarity that shouldn't go unnoticed. Most of the soundtrack is in this vein and serves to enhance what Stone refers to as "the daunting isolation" of the characters. Without much dialogue, the music also helps develop them, as if they aren't colorful enough hacking their way through the trees, butchering animals and being raped (one of the Vikings, played by Stone himself, gets drugged and molested by a hot native woman).
The Dark Ages describes the tumultuous period after the fall of the Roman Empire, named for its lack of progress and an absence of surviving written work coinciding with social chaos during which Christianity continued to spread. Though it is out of fashion as an academic term, it is useful here to illustrate the historical background of the film, which imagines the twilight hours of the Vikings' culture, before it was broken by a new Christian age, before their "severed ways." The Norse discovery of America did occur several centuries before Columbus, a fact indisputably supported by archeology, but not widely taught in our institutions. Part of the film was shot on location at Leifsbudir in Newfoundland. Renamed L'Anse aux Meadows by the French, it is a small Norse settlement excavated in the 1960s and proof of the title's premise.
Black metal is a battle cry, mostly of Northern Europeans, who seek the return to a pre-Christian ideology. It's also a "modern backlash against American corporate consumerism… of greedy self interest," Stone opines. Though perverse at its edges, it's easy to nod along with these days. It might make you wonder where we'd be if the pagan Norse, the first Europeans to settle America, had endured.
"Severed Ways" features music by Popul Vuh, Burzum, Morbid Angel, Brian Eno, Dimmu Borgir, Queens of the Stone Age, and Judas Priest. It opens March 13th in New York.