SXSW 2009: Reinventing the distribution wheel.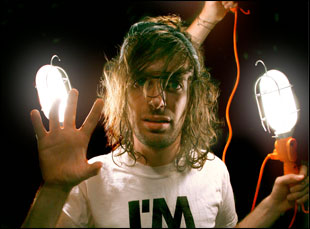 Posted by Alison Willmore on
Times are tough everywhere right now, but they've been tough in the indie distribution world long before the current economic downturn. Too many films, too high advertising costs, not enough arthouse screens, not enough time for titles to build up buzz before they're bumped to make room for next week's offerings — people bemoan the shift away from theatergoing, but theatrical releases have largely become just a glorified means of marketing a film's DVD or digital release.
There are several attempts to break away from the traditional release method kicking off here in Austin this week: "The Least of These" is getting a simultaneous festival and online premiere via SnagFilms; our sister company IFC Entertainment's putting five films on VOD via Festival Direct as they makes their premieres; Cinetic's just put three films from last year's fest that didn't get theatrical deals up on Hulu, "We Are Wizards," "Yeast" and "The Lost Coast." And B-Side, best known for providing free websites with plenty of community components to festivals (take a whirl around their SXSW Genius site), announced yesterday that their first release as a distributor will be Brett Gaylor's copyright doc, "RiP: A Remix Manifesto," which is making its U.S. premiere here at the SXSW Film Festival. I grabbed a drink with B-Side's CEO Chris Hyams and Paola Freccero, recently hired away from Tribeca to head up the company's new distribution arm in New York, to hear about their model and why they were getting into the distribution business when everyone else seems to be getting out.
For B-Side, the idea is to skip the typical release method entirely and aim for something they call "quasi-theatrical" — venues, be they cinemas, bars, community centers, etc, can request a DVD of a film in order to hold their own screening, all of the proceeds from which they can keep. B-Side and the filmmaker make their money only from actual sales of the film digitally and on DVD, and via venues like Hulu, and they split the revenue 50/50. The company was inspired to take this initiative after being a co-partner in a similar release of last year's pot comedy doc "Super High Me," offering a "Roll Your Own Screening" initiative and reaching out via the likes of High Times, and in the end getting far higher DVD sales than any original estimates.
This model relies on films that have passionate, reachable niche audiences already in place, since little or no money will be put into advertising and promotion — "licorice films," which some, even most people just won't care for/about, but a smaller group will truly love. Partially because of that, it's at the moment doc-centric, with only one narrative in the slate of recent acquisitions B-Side will be announcing over the next few months. It also means giving up on relying on coverage from the major press outlets, since this style of release almost certainly won't include the requisite weeklong New York or L.A. run needed to guarantee a review. It's not a concern for the company at the moment; as Hyams put it, the people who sought out "Super High Me" weren't really worried about what Manohla Dargis would have thought of it. And Freccero noted that the number of filmmakers who insist on the prestige of that type of theatrical release are "fewer now than the year before," and will be fewer still next year.
It's an ambitious and notably web-influenced approach to putting out films (one that echoes the faith-based film market, which has been doing similar things for a few years now), not as much in its use of technology as in its long tailish conviction in the internet allowing specialized audiences to find what they're looking for, with a little help. Any sense of sadness at the ever more devalued power of critics is probably felt only by me.
[Photo: Gregg Gillis, aka Girl Talk, in "RiP: A Remix Manifesto," B-Side Entertainment, 2009]