Recession, Depression and Just Plain Depressing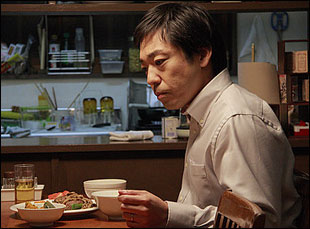 Posted by Glenn Kenny on
After a couple of months that for all intents and purposes defined "moribund," actual moviegoing, at least in the major cities, is getting interesting again, with several masterworks or near-masterworks creeping into theaters. Jan Troell's scrupulous, beautiful "Everlasting Moments," Olivier Assayas' genuinely Renoir-esque "Summer Hours" and Philippe Garrel's blunt, idiosyncratic "Frontier of Dawn" are all exceptionally exciting and rewarding pictures, and the fact that they're all being distributed by the sister company of the one that's hosting me as a critic this month looks…well, funny, I know. What can I tell you? IFC Entertainment's acquisitions folks have excellent taste, and they're into…acquiring.
Still in all, I'm slightly relieved, if only for the sake of appearances, that the latest wonderment from Japanese director Kiyoshi Kurosawa, "Tokyo Sonata," premieres on U.S. screens this week courtesy of Regent Releasing. Kurosawa, who, as most of his fans already know, is no relation to Akira, is a master purveyor of artful horror films and/or surrealism-tinged tales of modern urban anomie (or is it the other way around?), or more to the point some combination of both. "Tokyo Sonata," from a script by Max Mannix that was widely revised (particularly, if we go by interviews with the artistes, in the last third) by the director, has no overt supernatural elements. But still. The Tokyo park where the homeless and unemployed line up every day for free food has the look and feel of a setting from the finale of Kurosawa's terrifyingly apocalyptic 2001 stunner "Pulse," only minus the unmanned plane flying into a building. "Sonata"'s adult male lead, Teruyuki Kagawa, has a peculiarly round face, with puffy skin and doll-like eyes; the eerier blandness of his features brings to mind those of countless somnambulistic killers in '60s B pictures, beginning with Ricardo Valle's Morpho in Jess Franco's "The Awful Dr. Orloff." His unsettling appearance makes the passivity his character Ryuhei Sasaki displays as he's summarily dismissed from his job more unsettling than it would have been had a more conventional-looking actor been playing him. And it makes Ryûhei's always ill-advised breakouts from passivity more terrifying.
These and other off-kilter touches — putting the Sasaki family house literally right next to a rail line, for instance — could have severely impinged upon the balance of the film, spinning it off into overtly Lynchian territory. But Kurosawa is his own man, and his particular mix of melancholy, anxiety, bone-dry humor, and, finally, grace, is a unique quantity in cinema.
After getting downsized due to lack of initiative, Ryuhei slinks home early and tries to sneak in via the back door, only to run into wife Megumi (Kyoko Koizumi), who responds with a quizzical shrug. Oldest Sasaki son Takashi (Yu Koyanagi) is a listless mophead who comes and goes throughout the film like a ghost. "Sonata" is more concerned with Ryuhei's subterfuge, and younger son Kenji's impulsive decision to start piano lessons, a course he carries out in secret.
More than just a study of a dysfunctional family, "Sonata" also functions as a ruthless critique of the patriarchy, pretty much announcing it as the very heart of the dysfunction. Hypocrisy rules, sometimes with awful hilarity. "I raised you to have a happy life," Ryuhei protests when Takeshi announces his intention to join the military. After discovering Kenji's new enthusiasm — which, you know, makes the kid happy — Ryuhei expressly forbids his taking lessons; when Megumi gets Ryuhei to see reason, he lamely notes, "Once I've said no I can't take it back. It affects my authority as a parent." This provides an opening for Megumi to play her trump — she's seen Ryuhei in that park.
Just as a sort of détente is in sight — maybe — the family is shattered again, courtesy, at least in part, of Koji Yakusho, a Kurosawa stalwart, whose character's failed robbery of the Sasaki house leads to a hostage situation and one of the more peculiar "they made me a criminal" monologues in recent memory. But citing these plots points is, finally, rather beside the point, the point being the spell Kurosawa (aided mightily by cinematographer Akiko Ashizawa) casts, putting the viewer in a world that's recognizable but not quite our own, and illuminating the one that is in the process.