Monsters vs. John Cena vs. Cindy Sherman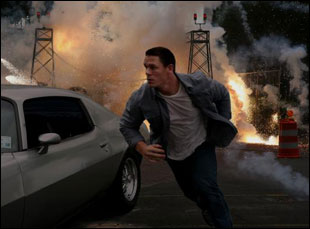 Posted by Neil Pedley on
A barrage of quality indie fare this week compliments a couple of seriously intriguing docs as well as some less than stellar genre fare as the blockbuster season of summer quietly inches ever closer.
Subscribe to the In Theaters podcast: [XML] [iTunes]
"12 Rounds"
It's something of an irony that Renny Harlin, the man who made grown men cry with the abominable "Die Hard 2," should scratch out a paycheck at the helm of this derivative WWE Studios thriller with a plot that borrows so heavily from the infinitely superior "Die Hard With a Vengeance." Sporting the customary condom-full-of-bowling-balls physique, WWE grappler John Cena stars as New Orleans detective Danny Fisher, the target of much ham-fisted ire from international terrorist Miles Jackson (Aidan Gillen), who blames Fisher for the death of his girlfriend. With his own girlfriend Molly (Ashley Scott) now held hostage by Jackson, Fisher becomes the pawn in a Machiavellian scheme of vengeance comprising 12 elaborate games, each more deadly than the last.
Opens wide.
"American Swing"
As demonstrated by the current economic downturn gifting the movie industry its first billion dollar January in history, troubled times send common folk scurrying for escapist fare, which in the hedonistic wake of the sexual revolution (circa late '70s New York) more often than not meant sex and drugs. (Rock 'n' roll had gotten lost somewhere along the way.) The feature doc debut for co-directors Jon Hart and Mathew Kaufman uses never-before-seen footage to take us inside the infamous Manhattan swingers club Plato's Retreat, run by self-anointed "King of Swing" Larry Levenson. Splicing together unearthed archive footage with candid testimony from former staff and patrons, "American Swing" is a snapshot of a unique time and place, where simple people came to enjoy simple pleasures, checking their inhibitions (and frequently their clothing) at the door.
Opens in New York.
__AD__
"The Education of Charlie Banks"
Having debuted last year with what was technically his sophomore feature "The Longshots", the enigmatic Fred Durst — a man no one could possibly confuse as being warm and fuzzy (though sweaty and hairy, perhaps) — continues to confound expectations with this '80s-set character-driven morality tale. Jesse Eisenberg, who rivals Michael Cera as the master of the awkward pause, stars as the titular high schooler whose anonymous tip off lands his one-time playground nemesis Mick (Jason Ritter) behind bars for a vicious assault. Fast forward to college and Charlie and his best friend Danny (Chris Marquette) find their perfect world interrupted as Mick inexplicably resurfaces to embed himself into their lives, much to Charlie's dismay.
Opens in limited release.
"Guest of Cindy Sherman"
The '80s art boom in New York was both a hunting ground and an unexpected place of acceptance for gonzo public access reporter Paul H-O (short for Hasegawa-Overacker), an art-world commentator who was as quick to point out a no-clothes-emperor as he was to praise genuine artistic triumph. Cutting together several years worth of footage from his constantly running camcorder, H-O's cathartic documentary debut is a charming, if occasionally creepy, chronicle of his longtime romantic involvement with reclusive art scene titan Cindy Sherman and his (ultimately futile) bid to reconcile his role as an unequal partner (read: less famous) in the relationship.
Opens in limited release.
"The Haunting of Connecticut"
For too long now, the term "based on actual events" has been employed as a bandage for filmmakers who realize "we haven't really thought this through" and while not limited to the horror genre (hello "Changeling!"), the trend is more prevalent here than anywhere else. In fact, the only thing more perplexing than why we continue to cough up money just to see a film trot out the old Jonsey-the-cat scare is the question of when the clearly quite talented Kyle Gallner is going to land himself a breakout role? Here Gallner wastes away (literally) as the cancer-stricken Matt Campbell at the center of director Peter Cornwell's debut about a family beset with all manner of spooky goings-on in their storied suburban pad. Virginia Madsen, Elias Koteas and Martin Donovan co-star.
Opens wide.