Corporate Cons, Battling Besties and Valentino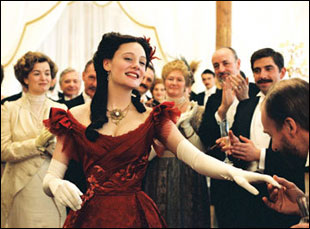 Posted by Neil Pedley on
If daylight savings time is upon us, it must mean the first quarter release graveyard really is out of sight now as some big name stars finally come out to play. Meanwhile, some previous SXSW alums make their theatrical bows as the film and music fest get underway in Austin and bromance continues to blossom.
Subscribe to the In Theaters podcast: [XML] [iTunes]
"Angel"
French helmer François Ozon's first English language feature is an adaptation of Brit author Elizabeth Taylor's seriocomic novel of the same title and promises to be a campy, ironic throwback to the melodramas of 1950s Hollywood. Romola Garai stars as Angelica "Angel" Deverell, the Barbara Taylor Bradford of the Edwardian era who specializes in romantic slush, which she flogs to long-suffering publisher Sam Neill. A woman of determined ambition, Angel callously manipulates anyone she feels will benefit her ascension to the upper echelons of society, only to come to the realization that she hasn't a clue what to do once she gets there.
Opens in limited release.
"Duplicity"
On the heels of his far-better-than-it-looked-on-paper white collar thriller "The International," Clive Owen continues his crusade against capitalism by reuniting with "Closer" co-star Julia Roberts for writer/director Tony Gilroy's corporate con comedy, replete with heist hijinks, red herrings, and double and triple crosses. As a pair of former spooks-turned-security analysts, Ray Koval (Owen) and Claire Stenwick (Roberts) declare their steamy past strictly business and pool their resources in order to pit their greedy rival bosses (Tom Wilkinson and Paul Giamatti) against each other while conning them out of their valuable corporate secrets.
Opens wide.
"The Feature"
"Darkon" co-directors Luke Meyer and Andrew Neel collaborate with French experimental filmmaker Michel Auder in assembling 40 years of footage into a unique, sprawling, near three-hour long retrospective of Auder's life and his constantly evolving work. An artist, musician, poet, diarist and — by his own assessment — "filmmaker who isn't interested in filmmaking," Auder narrates as his life unspools on screen from over 5000 hours of footage, recordings, images and interviews he has collected, transforming it into an interpretive portrait of his own enigma.
Opens in New York on Wednesday, March 18th.
"The Great Buck Howard"
Despite veering wildly from sharp satire to sentimental schmaltz, writers/director Sean McGinly delivers potentially a breakout picture, aided by a galaxy of star cameos (Conan O'Brien, Jon Stewart, Martha Stewart) likely straight out of the address book of producer Tom Hanks. Proving once and for all that no one does self-important petulance better, John Malkovich is the titular showman Buck Howard, who was once a darling of "The Tonight Show," and now tries to prevent time's withered claw scratching away his career by scouring tourist traps and playing to the blue rinse brigade. Handling the baggage, both literally and figuratively, is Colin Hanks as Troy, a law school dropout who lands the job of Buck's assistant, charged with wooing a crafty publicist (Emily Blunt). Tom himself pops up as — guess what? — Troy's deeply disappointed dad.
Opens in limited release.
"Hunger"
With a big question mark still hanging over the future of inmates held at Guantánamo Bay, British helmer Steve McQueen's poignant debut is a timely reminder of the harrowing story of Bobby Sands, the IRA hunger striker who starved himself to death in a British prison in 1981 in protest of the denial of his political status. In an unflinching retelling of one of Britain's most shameful hours, McQueen chronicles the rampant prisoner abuse and widespread political apathy that caused Sands (Michael Fassbender) and nine other prisoners to sacrifice themselves to bring light to the desperate hopelessness of their situation.
Opens in limited release.
"I Love You, Man"
Born out of the tried and true "Odd Couple" premise, this latest entry into the bromantic comedy subgenre arrives from "Along Came Polly" and "Safe Men" writer/director John Hamburg. Paul Rudd stars as a soon-to-be-wed stiff Peter Klaven, whose lack of best man options leaves him "man-dating" himself into a close bond with the wilder Sydney Fife (Jason Segel). But as the big day approaches, Peter wonders if he can really choose between his blushing bride (Rashida Jones) and his newfound best bro. Andy Samberg, Jon Favreau, J.K. Simmons and Jane Curtin are among those adding to the laughs.
Opens wide.