Of Soldiers, Playmates and Poets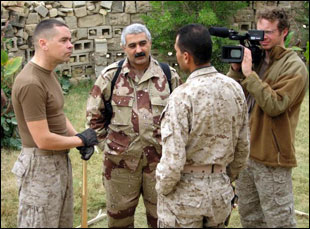 Posted by Neil Pedley on
This week sees, for once, nothing imported from Russia and nothing opening in 3D. Hmmm…signs and portents.
Subscribe to the In Theaters podcast: [XML] [iTunes]
"Brothers at War"
While his very premise negates a documentarian's objectivity, filmmaker Jake Rademacher brings an intimacy and affection to his feature debut, a handheld portrait of his two brothers serving in Iraq. Shot first-hand while embedded with his brothers' units in the field, Rademacher seeks to better understand their actions and motivations as they patrol along the Syrian border. Putting the larger political issues aside, the film focuses on the men and women who fight, the families back home who wait, and the unique bond that ties and holds them all together.
Opens in limited release.
"The Cake Eaters"
After cutting her directorial teeth with a segment in 2001 sci-fi anthology "On the Edge," Mary Stuart Masterson undergoes yet another career reinvention as the helmer of this rural ensemble drama of regret and reconciliation. Having fled to the big city to pursue a music career, Guy (Jayce Bartok, who also wrote the script) returns to his tiny home town having learned that he missed his mother's funeral. His arrival uncorks the pent-up frustrations of the brother and father that he left behind. Kristen Stewart, who broke big recently as the heroine of Stephenie Meyer's looky-no-touchy teen romance "Twilight," shows a different side here in the role of Georgia, a terminally ill teen aggressively pursuing Guy's brother Beagle (Aaron Stanford) with the hopes to experience the fruits of love while she can. Bruce Dern, Elizabeth Ashley and Melissa Leo co-star.
Opens in New York.
"Carmen & Geoffrey"
Both a portrait of a pair of artists and one of a couple who've been married for 53 years, this documentary from filmmakers Linda Atkinson and Nick Doob traces the relationship between legendary dancer Carmen De Lavallade and famed choreographer, actor and director Geoffrey Holder, both major figures in the world of modern dance.
Opens in New York.
"The Edge of Love"
Cillian Murphy, Sienna Miller and Keira Knightley stars in this period piece that made British gossip rags go weak at the knees, a potentially salacious dramatization of poet Dylan Thomas' well-documented, passionate love triangle, though its premiere at the Edinburgh Film Festival last June revealed it to be more plush portrait than titillation. From director "Love is the Devil" director John Maybury, this snapshot of WWII London life sees Matthew Rhys starring as the celebrated Welsh bard Thomas embroiled in a tangled emotional three-way between free-spirited wife Caitlin MacNamara (Miller) and childhood sweetheart Vera Philips (Knightley).
Opens in L.A.; opens in New York on March 20th.
"The Last House on the Left"
With so many casualties of the infamous banned lists of the '70s and '80s now revealed to be positively tame by today's standards, Wes Craven's mother of all video nasties remains one of the elite few that can still accurately be described as difficult viewing. Craven serves as an executive producer to oversee this present day re-imagining of his 1972 directorial debut starring Sara Paxton as the abducted and brutalized Mari, whose attackers unwittingly seek refuge at the vacation home of her parents (Tony Goldwyn and Monica Potter), who plot to exact the ultimate revenge.
Opens wide.
"Miss March"
Two of the Whitest Kids U'Know, Zach Cregger and Trevor Moore, make their leap to the big screen as the writers, directors and stars of this sardonic road trip sex comedy. After what was supposed to be an unforgettable prom night leaves him in a four-year coma, Eugene (Cregger) awakens to find his high school sweetheart splashed across the pages of Playboy and at the urging of his best pal Tucker (Moore), embarks on an anarchic cross-country jaunt to Hef's mansion in order to win her back.
Opens wide.