On the Late Show: Talk Show Hosts in Movies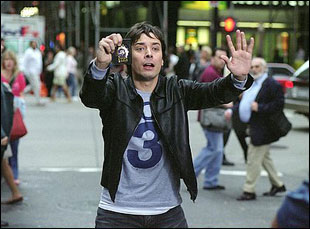 Posted by Matt Singer on
This week, the world of late night television experiences its biggest shakeup in years, as Jimmy Fallon takes the reigns of NBC's "Late Night" from Conan O'Brien, who, at the start of June, will take over "The Tonight Show" from Jay Leno, who moves on to start his own talk show at 10pm. With talk show hosts on our minds these days, it seemed like a good time to look back and see how they've fared on the silver screen.
Qualifications for inclusion were simple: the talk show host in question has to be best known — and most successful — in their show business career as a talk show host. Craig Ferguson, current host of CBS' "Late Late Show," carved out a long and successful career as an actor and director of such films as "The Big Tease" before accepting the slot after David Letterman, so he was out. We also disqualified any movie in which the potential subject played him or herself. That meant no entry on Jerry Springer's turn as "Jerry Springer Farrelly" in "Ringmaster" (Thank God). Of course, even when these men (and one woman) were "acting," they were often just doing their TV schtick anyway, as cops or stuffed monkey salesmen behaving a lot more like comedians than men of their alleged profession or stature.
Herrrrrre's the movies. For full effect, say the last sentence like Ed McMahon.
Jay Leno
Host of "The Tonight Show" (1992-2009)
Appearing in "Collision Course" (1989)
Directed by Lewis Teague
Jay Leno may be playing Detroit P.D. Detective Tony Costas in the buddy action comedy "Collision Course," but he looks an awful lot like Los Angeles talk show host Jay Leno. Like the real-life Leno, Costas' wardrobe is steeped with denim, and a plot involving a stolen prototype for a new sports car called the Starburst (that comes in Orange, Lemon, Cherry, or Strawberry) plays to the automobile milieu that's a such a key part of his "Tonight Show" persona. Even with all these personal touchstones, Leno still fumbles the role. It doesn't help that with a physique doughier than a Pillsbury spokesman and a running gait that resembles Barbaro after he broke his leg at the Preakness in 2006, Leno may be the least convincing badass cop of all time. He's teamed with Pat Morita, a Japanese policeman searching for the same prototype plans, and together they get over their racial hatred while teaching each other the joys of ignoring Miranda rights and murdering suspects in cold blood. It's too bad Leno and Morita don't acknowledge the fact that they're the worst cops ever — some scenes would make great material for a late night monologue. "Now what you want to do when you find a possible murder weapon is to cover it with your own fingerprints while destroying as much of the physical evidence the killer left behind as possible!"
David Letterman
Host of "Late Night with David Letterman" (1982-1993); "The Late Show with David Letterman" (1993-Present)
Appearing in "Cabin Boy" (1994)
Directed by Adam Resnick
What better way for David Letterman to celebrate his leap from NBC to CBS's "The Late Show" in 1993 than a bit part in Chris Elliot's bizarre magnum opus "Cabin Boy"? Written and directed by "Late Night" scribe Adam Resnick, and starring frequent contributor Elliot, Letterman's appearance ended up being one of the most famous cameos of all time, at least among talk show junkies. Appearing early on as a salty seaside merchant with a healthy disdain for Elliot's "fancy lad," he poses the evocative question, "Would you like to buy a monkey?" while holding the stuffed simian aloft. He later immortalized the query during his Oscar hosting gig, which unearthed auditions of Paul Newman and Madonna putting their own unique spin on the line. (Watch for yourself here.) Clearly not ascribing to the "Method" school of acting, Letterman delivers it with his usual ironic bemusement, and aside from the newsboy cap, puts little effort into fitting into the wonderfully strange seafaring mythos of the movie. He's still just Dave, the wisecracking, non-sequitur loving man-child, wandering on set with a chewed-up cigar in his mouth and a knit monkey in his hand.