Mary Lynn Rajskub Lets the "Sunshine" In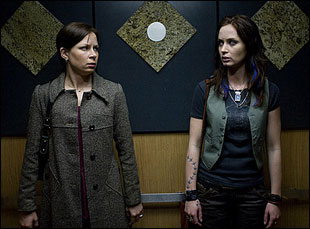 Posted by Aaron Hillis on
"24" star Mary Lynn Rajskub (pronounced "rice-cub") is having an art show next month, which actually isn't half as surprising as the path that led to her widely recognized dramatic role as tech analyst Chloe O'Brian. Having attended college for fine art painting, Rajskub realized she could make people laugh doing performance art, and so in her early 20s, alongside cutting edge talent like Jack Black, David Cross and Janeane Garofalo, she became a stand-up comedian. From acclaimed programs like "Mr. Show" and "The Larry Sanders Show" to films like "Little Miss Sunshine" and "Punch-Drunk Love," Rajskub's career is chock-a-block with memorable characters, even if most first think of her as the hardware expert who helps Kiefer Sutherland fight terrorists. Most recently, Rajskub can be seen in the indie dramedy "Sunshine Cleaning," in which she plays the lesbian daughter of a woman who has recently died, as discovered by two sisters (Amy Adams and Emily Blunt) who run a crime scene cleaning company. By phone, Rajskub and I spoke about awful jobs, playing guitar, stalkers and the sci-fi movie she and Alan Arkin are destined to make someday.
In the spirit of the film's titular business, what are some of the most degrading jobs you've ever held?
I don't think I can top cleaning up after the remains of people. I worked in a greenhouse, which I thought would be really quaint: "I'm going to be around plants and flowers." But it was just cleaning up piles of dirt and moving heavy stuff onto a truck. I worked at a movie theater, which again doesn't seem like it would be disgusting, but when you have to sweep up and clean the bathrooms, it's pretty gross. I waited tables at Denny's, which was kind of exciting for me because it was one of my first jobs. It has a special place in my heart because there was nowhere else to hang out where I'm from. You could be a teen sitting there drinking cups of coffee, and I got to see the inner workings. You have to memorize the codes of all the meals, and put it into the computer. And their guacamole is frozen in a can. I didn't know what an avocado was. I had never had that until I moved to California. I have a fond memory of making a big vat of ranch dressing with the buttermilk. It's super depressing, but there's something weirdly comforting about it, too.
In the film, Emily Blunt's character befriends you after stalking you. Have you ever had any uncomfortable run-ins with overeager fans, harassing exes, or other undesirables?
I dated a guy who I wasn't really attracted to, but I thought, "I'm going to go out with him again, just to see. Maybe the attraction will grow." We went to kiss, and right away, I was like: "I'm not into this." And he said, "That's the meanest thing anyone has ever said to me." He proceeded to write me longer e-mails than I've ever written in my life. If you took all the e-mails I wrote in a week and put them together, it would add up to one of the 40 e-mails he wrote me describing how I just don't know that I'm into him yet, and he's a really good guy. I'm like, "You're a great guy, but it's just not happening." I don't even understand how he found so much to say about us. For a while, I was talking to him, and then I was like, "Why are we still talking about this?" He couldn't stop. He was begging me to call him so we could talk about it. Really weird.
Then last night, I was coming out of this restaurant, and this guy asked me for my autograph. It was [one of] these guys with white cards, which means that they sell them on the Internet. He was like, "You snubbed me at the Walk of Fame." Kiefer was getting a star on the Walk of Fame, so I guess this guy was there, where I did sign some autographs. I was thinking about that this morning: "You snubbed me." What are you talking about? You want something from me, I don't know you, I don't really know what you want. It's not like I wouldn't do it. I just happened to not do it that day. That sucks! I did not snub you! [laughs]
That kind of thing probably happens more often than you'd like. With the success of "24," how strange is it to be so easily recognized on the street?
It's totally bizarre. You know, it's fine, I enjoy it. I'm lucky to be on a show that people like so much. Most of the time, it's people saying, "I love the show," which is cool. You feel the attention: "Oh, I'm on this thing, and people watch it," and that's nice. But then the day before yesterday, this guy came up to me. I had my baby in the stroller, and I was crossing the street. I was looking at the baby, then suddenly he was right next to me, and his voice was really loud. He was nice, but he was like, "Hey! Are you the girl on '24'?" I said yes. He said, "You look so much better in real life. I just wanted to tell you that." What do I say, but thank you? He didn't have the faintest idea of why that might not be a compliment.