LOOKBACK AT A SOUNDTRACK: Napoleon Dynamite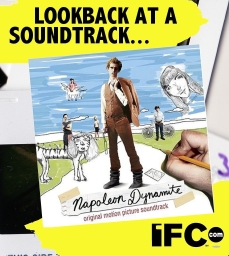 Posted by Jim Shearer on
Before I take a look back at the Napoleon Dynamite soundtrack, let it be known that I am a fan of the film. The high school scenes, especially–everything from the lunchroom banter, the awkwardly dressed students, and the tater-tot-smashing bullies–felt more realistic than any made-for-Hollywood movie you'll ever see. And even though Napoleon Dynamite (2004) was paced like an art-house flick, it had enough gags, humor, quotable lines, and–most important–heart, to one day become a film with a mass cult following.
Unfortunately, once the film starting getting positive attention; Vote For Pedro shirts, key chains, coffee mugs, and talking action figures made their way to the shelves of Spencer's gift stores all across the malls of America. If this happened ten years down the line I'd be totally fine with it, but you can't market a movie as a cult film until it actually becomes a cult film. It's like taking a bunch of grapes, smashing 'em in a bottle, and calling it wine. Wine becomes great over time; same goes for a cult movie.
The soundtrack for Napoleon Dynamite was compiled in the same manner. Instead of featuring 11 tracks–standard fare for a movie soundtrack–the album also includes 16 instrumental tracks from John Swihart, who scored the film, and 15 additional tracks of movie quotes–that's 42 flippin' tracks! For a soundtrack bursting at the seems, it's a little disappointing that one of the film's most memorable songs "Music For a Found Harmonium" wasn't included (although I'm sure licensing fees could have played a part in that).
Back to the composer of the film's soundtrack, John Swihart. I'm not pointing any fingers–no, actually, I am going to point fingers. Listen to track #19 (of 42) on the album, Money Mark's "Sometimes You Gotta Make It Alone." Now listen to Swihart's original compositions. Sound very familiar, don't they? Swihart's songs sound so much like Money Mark's signature stylings, that following the film's release, Money Mark said he got countless voice and text messages from friends congratulating him on doing the score for Napoleon Dynamite. Maybe he and Elvis Costello–who had used the alias, Napoleon Dynamite, years earlier–should have filed a joint grievance.
If the soundtrack to Napoleon Dynamite kept true to the sincerity and simplicity of its film we would have been left with 11 tracks–a quality mix of 80's goodies, electro-pop, and the funk-tastic "Canned Heat" from Jamiroquai. The crowning achievement of the soundtrack though, is re-introducing When In Rome's "The Promise" to a whole new generation of kids. The only problem is that a mystery track is attached to the end of the song–Kipp's wedding tune, "Always and Forever"–not ideal when you're assembling mixtapes or playlists, especially when the humor of the latter song has long since worn out.
Napoleon Dynamite, the film, always felt more Idaho than Hollywood. Too bad the same can't be said about its soundtrack and the merchandising blitz that followed its first batch of positive reviews.