Four Inevitable Disney Live-Action Remakes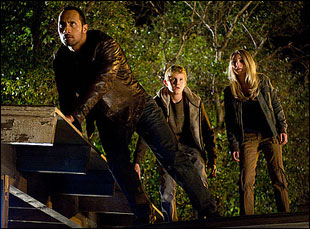 Posted by Matt Singer on
This week's "Race to Witch Mountain," starring Dwayne Johnson and Carla Gugino, is the latest remake– ahem, modern reimagining from Walt Disney Studios. Though the Mouse House's animated classics remain sacrosanct (if the jumping-off point of direct-to-DVD sequels), the live-action library has been pillaged for endless redos intended for theaters or the Disney Channel, which is where a previous remake of "Escape to Witch Mountain" starring Robert Vaughn and Brad Dourif premiered in 1995. Nothing is safe from the remake button over at Disney, so here are four more properties we fully expect to receive the same treatment in the near future, and proposals on how best to bring the projects into the 21st century. The only reason the immortally cheesy "Tron" didn't make the list is because they're already shooting a sequel.
"The Black Hole" (1979)
Directed by Gary Nelson
One of the least kid-friendly casts in Disney history (including hep cats Robert Forster, Anthony Perkins, Ernest Borgnine, and the voices of Slim Pickens and Roddy McDowell) play the crew of a spaceship that discovers a mad scientist perched on the precipice of a massive black hole in this unusually idea-centric science-fiction affair. Oh, sure, there are a few obligatory laser gun battles, and some fight sequences between robots held aloft by noticeable strings. But the vast, bloated — some might call it "Borgninian" – midsection of the film is devoted entirely to middle-aged white people dressed like Russian diplomats sitting in a Victorian-style sitting room (on a spaceship?) debating the ethics and etiquette of space exploration instead of actually exploring anything. And what's with crazy Dr. Zhivago's evil scheme?
He spends 20 years designing a ship that can resist the black hole's gravity in order to… stop resisting the black hole's gravity? Disney would probably love to take a mulligan on this whole project: save all the salable elements — how can you go wrong with laser guns and angry robots? — and inject some much-needed youth and excitement into the film. Certainly the availability of CGI would give the whole affair a much more appealing look: the ensemble of robots, for instance, would no longer have to look like a bunch of extras doing the robot dance while dressed like fencing instructors on their way to a funeral. The remake could maintain the original's epic feel (there's even an overture of composer John Barry's original score) while actually including people doing, y'know, stuff.
"Flight of the Navigator" (1986)
Directed by Randal Kleiser
Disney's always looking for more projects for their beloved Jonas Brothers, and this material is tailor-made for them. In the original, 12-year-old David (Joey Cramer) falls into a ravine while chasing his annoying little brother Jeff (Albie Whitaker) through the woods and awakens a short time later to find the entire world has believed him to be dead for eight years. Now, Jeff is 16 (and played by Matt Adler) and ready to pay back all those wedgies. Our updated "Flight of the Navigator" casts middle Jonas Joe as David, and Nick and Kevin as the younger and older Jeff respectively. Appealing to the tweenyboppers' enormous fan base of young girls will help the boy-centric material gain footholds in the female audience. Plus, the original, though a nostalgic favorite for children of the '80s, has at least one noticeable flaw worth correcting. After David awakens in 1986, NASA brings him in to help explain the mystery surrounding a downed UFO. Later, he takes the ship for a spin around the earth while conversing with its artificial intelligence, Max. But after the ship downloads some information from David's brain, it suddenly begins talking – and, even worse, laughing – like Pee-wee Herman. It's nothing against Paul Reubens; Pee-wee just didn't belong in this otherwise mysterious and atmospheric fantasy adventure. If we've absolutely got to have a crazy Max voice to appease the nostalgic fanboys, we'll get a less manic comedian: Seth Rogen was the right age to enjoy the original "Flight of the Navigator," maybe he'd be interested.