INDIE EAR MADNESS '09: Sweet-16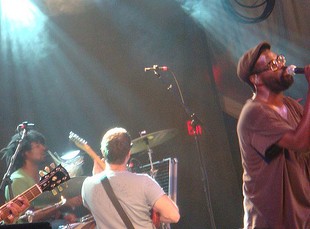 Posted by Jim Shearer on
The battle for Garden State supremacy, two of Brooklyn's favorites go at it, The Black Keys attempt to take out U2, and the most anticipated tournament pairing ever: Morrissey vs. The Cure:
MIDWEST
1 Kanye West vs. 4 A.C. Newman
What if Kanye had the indie-pop songwriting chops of A.C. Newman? What if A.C. Newman had the attitude and over-the-top sass of Kanye West? That'd be one dangerous performer, huh? Unfortunately someone had to lose tonight. In the end, the total package of Kanye West was too much for the soft-spoken A.C. Newman to overcome.
3 TV On The Radio vs. 10 Matt & Kim
TV On The Radio's second "Battle of Brooklyn" (they defeated Bishop Allen in the first round). TV On The Radio thought they would breeze past the duo of Matt and Kim, especially since they outmatched them in just about every category, except for one–having fun. Just when it looked like Matt & Kim were going to pull the big upset, TV On The Radio took a page out of their book and busted out a cover version of Peter Gabriel's "Sledgehammer," with all members of the band baring smiles as wide as the Brooklyn Bridge.
(above: It took a cover song for TV On The Radio to narrowly escape Matt & Kim).
EAST
1 Bruce Springsteen vs. 12 The Bouncing Souls
The Battle of the Garden State–featuring venerable Jersey rock legend vs. venerable Jersey D.I.Y. punks. You'd think the #1-seed Bruce Springsteen would make quick work of The Bouncing Souls, but when you roll with a crew as large as the E Street Band, it's not always easy to stay focussed. Before the match-up, guitarist, Little Steven was running around backstage looking for his free Dunkin' Donuts (a former sponsor of his radio show), while drummer, Max Weinberg, barely made the gig after flying back from Los Angeles rehearsing for his new bandleader position on the Tonight Show. The Bouncing Souls played a very tight set and managed to topple Bruce Springsteen & The E Street Band, who seemed to have other things on their mind tonight.
2 Depeche Mode vs. 3 Yeah Yeah Yeahs
In rock terms, both groups started out as unconventional music acts. Depeche Mode had a bunch of keyboards on stage and the Yeah Yeah Yeahs had no bass player. Depeche Mode eventually became larger than life and sold over 75 million albums worldwide, while the Yeah Yeah Yeahs slowly built a name for themselves, got a major label record deal and graced the cover of a few magazines. Despite being seeded just one spot lower than Depeche Mode, the Yeah Yeah Yeahs were considerable underdogs in this Sweet-16 match-up. It didn't matter though, because before the contest even began, Depeche Mode's Martin Gore and Dave Gahan got into one of their legendary disagreements and never ended up performing.
WEST
1 The Killers vs. 4 Franz Ferdinand
At this point in time both acts are well known around the world, but imagine if this match-up would have happened a few years ago; when both bands were just starting to blow-up, riding the success of their blistering debut albums, and performing each night like it was their last set on earth (whew!). This Sweet-16 regional semifinal brought back some old fire, and while both acts are definitely rock-star worthy, Franz Ferdinand was sexier and got the crowd to bounce more than The Killers, who seemed awkward, especially when it came time for them to banter with the crowd.

3 Morrissey vs. 2 The Cure
The marquee match-up of the Sweet-16! How many years have we waited to see this? Bitter foes Morrissey and Robert Smith going head-to-head–if only 120 Minutes were still around to cover this historic battle. Both acts are still capable of outplaying artists half their age, as they proved in the opening rounds of Indie Ear Madness, but Robert Smith's versatility was the deciding factor for The Cure's victory. Smith was able to go toe-to-toe with Morrissey's beautifully melancholic stage-show, then one-upped him by digging deep into The Cure's back catalog and performing a handful their biggest, feel-good pop hits.
(right: Robert Smith vs. Morrissey, we won't forget about this one anytime soon.)
EAST
1 U2 vs. 5 The Black Keys
Despite their age, U2 looked fresh against the younger Black Keys. Not only were The Keys outnumbered four-to-two, but after touring all of last year supporting their album Attack & Release–not to mention going to the Final Four in this very tournament one year ago–Dan and Patrick looked sluggish and couldn't outlast the rock power of U2. No shame for the Akron-based duo, cause c'mon, they lost to U2–a band that's been churning out hits for three decades now.
11 New Found Glory vs. 10 The Thermals
No one expected either New Found Glory or The Thermals to advance this far into the tournament. Since both bands could be considered Cinderella teams, it meant that the clock was going to strike midnight for one of them. The Thermals' three-prong, indie-punk-rock attack outlasted New Found Glory's road tested poppy, power-punk in a double overtime thriller.