INDIE EAR MADNESS '09: 2nd Round (Midwest, East)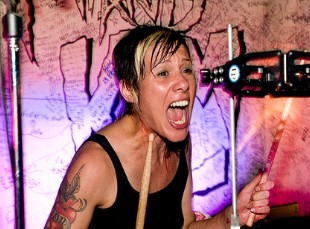 Posted by Jim Shearer on
The Boss takes on Mr. Lif, The New Pornographers do battle, and Kanye West goes head-to-head against his Viagra buddy:
MIDWEST
1 Kanye West vs. 9 88-Keys
They appear together in the music video, "Stay Up! (Viagra)," Kanye was the executive producer of 88-Keys' album, The Death Of Adam, and–damn–they're friends. But there's only one thing more important than friendship to Kanye West, and that is himself. He took no pitty on 88-Keys, unleashed hit-after-hit, and defeated his pal quite soundly.
12 Neko Case vs. 4 A.C. Newman
Whew–what a doozy here! Fans were calling it the battle of The New Pornographers. Over the years, the tension between the two bandmates is no great secret. Without having to worry about band fall out–since Neko Case and A.C. Newman were both performing under their own names–Newman let out years and years of frustration and ran his red-headed (and very temperamental) bandmate right out of the tournament.
6 Atmosphere vs. 3 TV On The Radio
Atmosphere is known to paint shit gold, but they couldn't do it against TV On The Radio.
(above: Kim, of Matt and Kim, tries her best to take down Lil' Weezy.)
10 Matt & Kim vs. 2 Lil' Wayne
Like a lot of indie kids do, Matt and Kim listen to a lot of hip-hop. They even cited it as an influence on their latest album, Grand. Going into a match-up against the much gushed over Lil' Wayne, you'd think they would feel some pressure–they didn't. Lil' Wayne and his vocoder were no match for Matt and his Kim.
EAST
1 Bruce Springsteen vs. 9 Mr. Lif
Politically, both acts share similar views, but in the grand scheme of things, Bruce Springsteen's legacy and still-rockin'-stage-show was just too much for Mr. Lif to overcome.
12 The Bouncing Souls vs. 13 Beirut
Beirut's Zack Condon, having trouble booking his 19-piece Oaxacan band for a second night in a row, was no match for the Bouncing Souls who stuck to their punk rock basics en route to the Sweet-16.
11 Bat For Lashes vs. 3 Yeah Yeah Yeahs
Natasha Kahn against Karen O–another dazzling display of indie-minded music's most respected female talent. Too bad Bat For Lashes overlooked the guitar playing prowess of Nick Zinner, who helped lead the Yeah Yeah Yeahs to their second straight tournament victory.
7 Peter Bjorn & John vs. 2 Depeche Mode
Martin & Dave out-dueled Peter Bjorn & John.
Indie Ear Madness '09 will continue next Thursday, March 26…