INDIE EAR MADNESS '09: 2nd Round (West, South)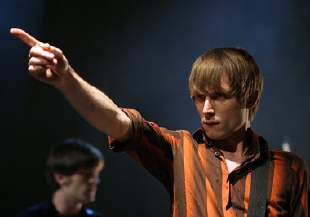 Posted by Jim Shearer on
The big names advance, Dan Auerbach has a one-of-a-kind conflict, and after toppling Coldplay in first round competition, will Thunderheist's Cinderella run continue?
WEST
1 The Killers vs. 9 Cursive
Though they seemed comatose in their pre-concert press conference, The Killers put together an impressive set, narrowly escaping the sounds of Cursive.
(left: Alex Kapranos leads the charge against The Bird and The Bee.)
5 The Bird and The Bee vs. 4 Franz Ferdinand
Even though they were just featured in the most recent issue of SPIN, the duo of The Bird and The Bee were no match for the tight Scottish squad led by Alex Kapranos.
11 The Morning Benders vs. 3 Morrissey
The Morning Benders' Cinderella run comes to an end. Though he's twice the age of the eldest Bender, Morrissey can still outperform them, and did just that to advance to the Sweet-16.
10 P.O.S. vs. 2 The Cure
There's no denying the excellence of P.O.S.' latest album, Never Better, but better doesn't cut it against one of the best.
SOUTH
1 U2 vs. 9 Sebastien Grainger
After taking out his former Death From Above 1979 bandmate in the first round, Grainger had little firepower left to outlast the unstoppable U2.
5 The Black Keys vs. 13 Dan Auerbach
The most intriguing match-up of the second round. As posed on the Indie Ear comment section: How is Dan Auerbach going to go up against himself? That was the question on everyone's mind. Would The Black Keys' frontman actually play two sets? If he wanted his solo project to advance into the Sweet-16, he could easily give a lackluster Black Keys' performance. As it turned out, Auerbach sided with his brother crime, Key's drummer Patrick Carney, and opted not to play a solo set. The Black Keys march on, looking for their second Final Four appearance in as many years.
11 New Found Glory vs. 14 King Kahn
The indie faithful turned out in droves bearing signs that questioned New Found Glory's
place in the tourney. One read, Not Indie Enough!, while another said, If I wanted to listen to NFG, I'd go to the Warped Tour. NFG had the last laugh though. After it appeared that the victory was all but theirs, Chad Gilbert grabbed the mic–took a page out Denzel Washington's book–and said, "King Kahn ain't got shit on me!"
10 The Thermals vs. 15 Thunderheist
Thunderheist wowed the crowd with their big electro-thrash sound–even winning over some of The Thermals' fanbase–but in the end, the indie-punk trio squeaked through to the Sweet-16.