SXSW 2009: Andrew Bujalski Minds His "Beeswax"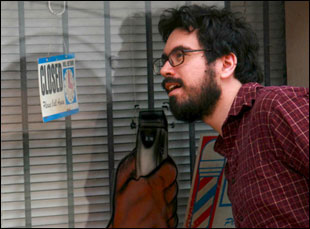 Posted by David Hudson on
You'd think that a film shot and set in Austin would see its world premiere at SXSW. "Beeswax" even features the festival's new producer Janet Pierson in a supporting role, as well as a slew of faces from the local filmmaking scene (the Zellner brothers, Kyle Henry and Bryan Poyser). And of course, "Beeswax" is the third feature by Andrew Bujalski, whose name is associated with a group of low budget filmmakers known, for the most part, for having met at SXSW over the past few years and subsequently being shoved under the same umbrella-like designator, "mumblecore." However convenient the shorthand, it's hardly fair to the filmmakers, much less the films, particularly one as non-mumbly and subtly heartfelt as "Beeswax." Jeannie (Tilly Hatcher), runs a vintage clothing shop; she may be facing a lawsuit from her business partner, and she seems to be flirting with the idea of getting back together with an old flame, Merrill (Alex Karpovsky), a law student studying for the bar exam. Jeannie's sister, Lauren (Maggie Hatcher, and yes, they're twins in real life), is between jobs and boyfriends and knows she needs to pick a track and get rolling again.
At any rate, the Berlin International Film Festival takes place a month before SXSW, and when the Berlinale calls, a young filmmaker books a flight. Lucky for me, then, since I got to talk to Bujalski, who'd all but just stepped off the plane. At the next table, Maren Ade was being interviewed in German, and I wondered if Bujalski had heard of the Berlin School, another batch of low-budget filmmakers finding themselves herded together by critics anxious to spot the next movement. No, he hadn't, but: "They have a better name." True. "Beeswax" sees its North American premiere at SXSW tomorrow.
How did you end up making a film in Austin?
I lived in Austin 10 years ago. I actually wrote "Funny Ha Ha" when I was living in Austin. I've yet to write a film in the same city that we eventually shoot it. I hope this trend doesn't continue. Films always seem to end up transporting me somewhere else.
So I lived there a long time ago and when it came time to put this one together, there wasn't an obvious place to do it. We were all so spread out. I was living in Boston. The twins — Tilly lives in Atlanta, and Maggie was in New Haven at that time. The producers and the DP that I work with were all over the place, in New York and LA. So there was no clear central location and the film didn't seem to demand too specific a location.
I still have a huge amount of fondness for Austin. I knew people and I knew my way around. Certainly there's a great film community there, and you need to pull a thousand favors to get a film like this made and I thought it could be done there. Really, what put us over was I'd written this whole script that depended on us finding a wheelchair-accessible vintage clothing store [for Jeannie, who uses one], and of course, after I wrote the script, I kind of realized that those didn't really exist. For the most part, vintage stores are usually very cramped spaces that you can't maneuver a wheelchair around in. Austin has a ton of vintage stores, so I did my due diligent Internet research and spent a weekend driving around to all of them. The last one that I went to was the one we ended up shooting in, which was just perfect. Everything about it was uncannily perfect. I'd also written in this back room behind the counter, and that was there. It was eerie how right it was and how friendly the owner was.
Where is it?
It's Storyville, it's on 51st and…
That's right! You see the ad and everything. It actually exists.
It actually exists.
What's interesting is that you never see the exterior.
You don't.
Was that a conscious decision?
Well, see, even as a student, I don't think I ever wrote an establishing shot. I've had an aversion to them. We thought about going outside in that first scene, when the new employee, Karina, is outside, but we never went there. We stayed inside.
And yet, throughout, It feels like Austin, and of course, the heat is mentioned occasionally and all that — but there are no state capital shots, no landmarks.
[laughs] And in "Mutual Appreciation," we never got the Statue of Liberty or anything.