American Earnestness and a French Soufflé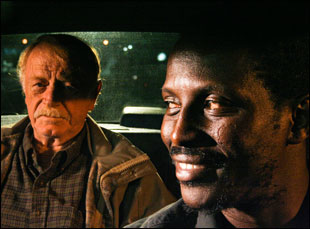 Posted by Glenn Kenny on
A cursory look at the filmography of writer-director Ramin Bahrani — and by "cursory," I mean one not involving actually viewing any of his films — will suggest to many that he's the kind of filmmaker who specializes in the oft-dreaded Movie That Is Good For You. His films invariably deal with cross-cultural exchange, or lack thereof; his characters are strangers in strange (albeit torn-from-today's-headlines) lands. They are immigrants looking for ways of belonging, foreigners trying to make peace with their obscure pasts and other species of societal outcasts. A possible précis for Bahrani's latest picture, "Goodbye Solo," wouldn't have to try terribly hard to make it sound like a cross between "Driving Miss Daisy" and Kiarostami's "A Taste of Cherry." The picture, set in Winston-Salem (where Bahrani himself was born) tells the story of an unlikely friendship between a cheery Senegalese cab driver named Solo (Souleymane Sy Savane) and a super-gruff, aged ex-biker named William, who Solo insists on calling "Big Dog" (Red West). William appears intent on offing himself on a particular date in a particular setting, and that's something the big-hearted Solo can't bring himself to understand at first. So he puts in some effort.
So far, so social-problem-served-up-with-moral-uplift-sounding. But those who've seen and enjoyed Bahrani's prior features — the most recent were 2007's "Chop Shop" and 2005's "Man Push Cart" — know that the filmmaker offers quite a bit more than celluloid platitudes. His pictures teem not just with remarkable characterizations and performances, but have a visual acuity and sense of place that's increasingly rare in any genre today. "Goodbye Solo" is his most directly engaging and moving film yet.
What makes Solo such a terrific screen concoction is that while he's, shall we say, magical, he is not, to put it another way, Magical. Yes, he's unusually big-hearted, and in his dealings with everybody — his smart, sassy, but hardly uber-cute stepdaughter Alex (Diana Franco Galindo), his no-nonsense, pregnant wife Quiera (Carmen Leyva), even Roc, the surly drug dealer who's a regular cab client and who doesn't think much of Solo's ambitions to give up driving and become a flight attendant — he always takes a generous, life-affirming stance. But he can be hopelessly, stupidly naïve, which explains why he's got a drug dealer as a regular client in the first place. "I'm a very curious person," he tells his interlocutors when he goes for the flight attendant exam. Curious to a potentially intrusive fault, as it happens. His way of understanding William and his past is the way of a pest; a stalker, even. This is, we understand, a function of Solo's essential innocence, but it doesn't make things any less occasionally creepy.
The performances here are of the type that critics like to call miraculous. Savane's easy smile finds a fascinating counterpart with his deep, searching, entirely serious eyes. And West, a former Elvis bodyguard (he can be seen on the peripheries of "Viva Las Vegas," "Kid Galahad" and nearly a dozen other lesser vehicles of the King) and stalwart character player, doesn't show an actorly or sentimental bone in his portrayal of William. No, he is that crusty old bastard at the far end of the bar, the one who can be a lot of edgy laughs when he's in the right mood but whom you'd best keep the hell away from when he's not. Pulling everything together is the blessed eye that Bahrani shares with cinematographer Michael Simmonds, and how it particularly illuminates everything it presents to the viewer. The blue gleam of Solo's flashy-cheap car radio, the warm, seedy glow of the bar where Solo heedlessly shoots pool with some playas of his acquaintance, the glorious autumnal forest to which Solo drives Big Dog, in accordance with his wishes, at the film's climax. All that and everything else.
Speaking of Movies That Are Supposed To Be Good For You, boy, is director Mark Brokaw's "Spinning Into Butter," adapted by Doug Atchison and Rebecca Gilman from Gilman's stage play, a particularly ripe example of such. Here, Sarah Jessica Parker plays a dean at a tony New England college, where she's horrified to discover that a shy African-American freshman has been targeted with racist threats. The tone-deaf and ineffectual administration of the school reacts by staging a few lame "Focus on Race" symposiums. These wind up looking like open calls for a production of "Rent," wherein the ethnically diverse participants fail to find a common cause, and fights break out. Parker's dean, and, I suppose, the prospective audience, are educated as to why "Nuyorican" does not equal "Puerto Rican" and sure as friggin' hell does not equal "Hispanic," although this parsing of the intricacies of identity politics did not so much generate sympathy with this viewer so much as it led him to wonder whether latter-day anti-affirmative-action activists might not have a point after all.
The pejorative phrase "like a TV movie" has lost a lot of its currency in recent years, as produced-for-television movies and series have, for some, started outstripping "real" movies in terms of both pertinence and craft; for all that, "Spinning Into Butter" embodies pretty much everything that was once meant by that characterization. Zero visual inspiration, thoroughly flat lighting and writing so tediously on-the-nose that it makes Haggis' "Crash" sound like Samuel Beckett — that sort of thing. Oh, and just you wait until you find out who's behind the notes, and, later, the noose hung from a tree. Wholly crap!