"Everyone Betray Me!": A Primer on "The Room"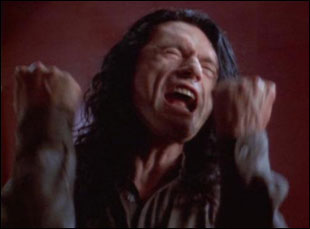 Posted by Matt Singer on
Seated in front of a mantle upon which rests a football, a basketball, a bouquet of roses and a poster of his face, a man with a mysterious accent speaks about a movie. "Everything you see and experience was done meticulously with meticulous planning and with a lot of preparation," he says before adding, "This is the finished product," in case that was not made clear by the film itself.
The man is Tommy Wiseau. His film is called "The Room," which Wiseau wrote, directed, starred in, produced and executive produced (he receives on screen credit for both producing titles). No one knows where he or his accent comes from; Wiseau gives interviews, but is notoriously stingy with details about his personal life. Like the Coneheads, he claims a vague past in France. Like the Coneheads, his accent is most certainly not French. When Wiseau speaks in "The Room," he sounds like Borat trying to do an impression of Christopher Walken playing a mental patient.
Wiseau's film, made on a $6 million budget (that also included marketing costs) and shot simultaneously on both 35mm and HD ("I was confused about these two formats," the director explains) opened in Los Angeles in 2003 to nonexistent business and disastrous reviews. But the few who saw it loved it, and the legend of the strange little film about a love triangle between a dim-witted banker (Wiseau), an unfaithful layabout (Juliette Danielle), and his himbo best friend (Greg Sestero) began to spread. Soon, Wiseau was encouraged to try the film as a midnight feature at the Laemmle Sunset 5 in West Hollywood. It worked, and a cult began to grow. Now, after six years of successful monthly screenings in L.A., the film is hitting the road. After a midnight screening in New York sold out weeks in advance, the Village East had to add a second, and later a third screening to accommodate demand. Those sold out as well.
If you were shut out at the Village East — like myself — or the film hasn't yet come to your hometown, you can still host your own "The Room" party. The film is available on Amazon (the DVD includes the aforementioned interview where Wiseau talks meticulously about his meticulousness) and the following minute-by-minute viewer's guide is humbly submitted to lead you through your journey.
03:15
After a long day at the office, Johnny (Wiseau) returns home and gives his fiancé Lisa (Danielle) a sexy new red dress. Their foreplay is interrupted by Denny (Philip Haldiman), their teenage neighbor and Johnny's quasi-adoptive son, who barges into the apartment unannounced and refuses to leave. When Johnny and Lisa head upstairs to their bedroom, Denny refuses to take the hint. He follows, jumps onto their bed and announces, with a little too much enthusiasm, "I just like to watch you guys!" Instead of recoiling appropriately in horror, Johnny and Lisa laugh and start a pillow fight. Incredibly, this is only the third creepiest moment in "The Room."
05:20
Once Denny finally exits, Johnny and Lisa have sex. Like all of "The Room"'s numerous sex scenes, it is a gauzy affair scored to a nondescript slow jam, with lots of slo-mo thrusting and showers of rose petals. Several shots come from the perspective of a water sculpture near Johnny and Lisa's bed, with water trickling down in front of the lens so that the camera looks like it's been placed inside of a toilet. Listen closely around the 7:42 mark for a weirdly cartoonish kissing sound effect of the kind you'd expect to hear in a "Merrie Melodies" cartoon when Bugs kisses Elmer Fudd. If you meet Wiseau, do not refer to this as a sex scene. Speaking with LAist, he declared "It's a love scene. That's what I call it."
10:12
Though she appeared entirely happy whilst making sweet, sweet love to Johnny, the two-faced Lisa unburdens herself to her mother Claudette (Carolyn Minnott) one scene later, insisting that their relationship makes her miserable. Claudette urges Lisa to remain with Johnny anyway because he can provide her with financial security. Later in the film, Claudette will dramatically announce she is dying of breast cancer and Lisa dismissively insists she is fine. I guess Lisa was right, because the issue is dropped and never brought up again.
12:29
As Lisa calls Mark (Greg Sestero), Johnny's hunky best friend and her secret paramour, the camera lingers on a framed picture of a spoon. "The Room" cultists have become obsessed with the spoon picture, and throw plastic spoons, "Rocky Horror"-style, whenever it appears onscreen. The spoon picture appears inside Johnny and Lisa's living room, the film's most frequent setting. But is this room the room? On the DVD, Wiseau ducks the question. Wherever the definitive room is, he says, is "a special place, a private place, a place where you can be safe. And it's not 'a' room but it's 'the' room!" I have no idea what this means.
21:18
If you want your "Room" party catered authentically, you can order Johnny's favorite pizza, as revealed in this scene. He likes half Canadian bacon with pineapple, half artichoke and pesto, light on the cheese. Johnny is so delighted when he learns Lisa has already ordered the pizza he declares, "You think about everything!" Curiously, when the pizza arrives, it looks suspiciously like a regular pie. Way to go, prop department.