Getting in the Act: 11 Novelists Who Found Their Way Into the Script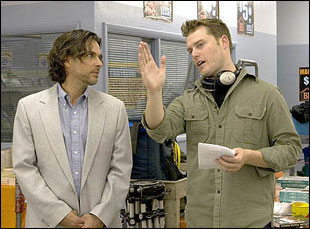 Posted by Michelle Orange on
Rock stars want to be movie stars and movie stars want to be rock stars; models want to be designers and designers want to tooth-tug Keira Knightley's ear on the cover of Vanity Fair. These are known facts, demonstrable often to a shudder-inducing degree. What to make, though, of the latent career ambitions suggested by the humble novelist's propensity for cameos? Do they all want to be comedians? Professional winkers? Or just slightly richer?
From Saul Bellow playing the "Man in Hallway" in an adaptation of his novel "Seize the Day" 30 years after it had been first published to Michael Chabon taking abuse in a bookstore in the upcoming adaptation of his 1988 novel, "The Mysteries of Pittsburgh," many authors can't resist the idea of essentially walking into their own novel when put to celluloid. Below are a few of those, and a few more whose motivations are more elusive.
Film: "Twilight" (2008)
Author Appearance: Stephenie Meyer
In this information-obsessed era, much of the appeal of a cameo — its element of surprise — has been lost to the need to know now, before, first. And so well before the film came out — days after the scene was shot, in fact — news of crazy-selling author Stephenie Meyer's cameo in the adaptation of the first installment in her vampire chronicles was all over the internet. Early reports suggested that Meyer's cameo would consist of the author ordering a vegetarian plate in a coffee shop scene (in her books, there are also vegetarian vampires) and that set off a "controversy" that no doubt lit up a thousand Tumblrs, but by the time it hit theaters, her screen time was reduced to a silent sit at a lunch counter. Too shy to go along with director Catherine Hardwicke's wish that she have a line, Meyer regrets doing it at all: "It was not my idea to do the cameo," she said in retrospect. "They talked me into it. They thought it would be, you know, cute for the fans because most of them would recognize me. I was thinking it was going to be more like a 'Where's Waldo?' thing. Like I walk by for one second in a crowd and if they can find me, cool. That's the one scene in the movie I would happily cut — the first five seconds, and the one that I had to watch like, I mean like this [covering her eyes], 'Ah, is it over yet?' It was really hard for me."
Film: "Annie Hall" (1977)
Author Appearance: Truman Capote
"Oh, there goes the winner of the Truman Capote contest," Alvy Singer (Woody Allen) says to Annie (Diane Keaton) during a Central Park-set scene in "Annie Hall." However, this being Central Park, it really was Truman Capote, just passing through, in an uncredited cameo. By 1977, the literary set had all but abandoned Capote — "Answered Prayers," his long-awaited follow-up to "In Cold Blood" was excerpted in Esquire, in 1975 and 76, to disappointing reviews. But the Studio 54 crowd embraced him for what he was: a gadfly par excellence. Late in life, Capote was best known for knowing everyone, and seemingly being everywhere; that he should wander through an Allen film seems like a knowing nod in ubiquity's direction. In the '60s, Capote was close with it-girl Mia Farrow, who attended his famous Black and White Ball, but the Allen connect may have come through Keaton, whose Hollywood home she rented in 1976. "She never bothered to change her number," Capote said. "I would have the most intimate conversations with the people who called her. 'Well, Diane's not here right now, would you like to leave a message?' Then the person would go into a deep psychoanalysis of Woody Allen. Ho, ho, ho."
Film: "Back to School" (1986)
Author Appearance: Kurt Vonnegut
Taking the cameo to its most comfortable register — the absurd — is Kurt Vonnegut's appearance in the 1986 Rodney Dangerfield comedy "Back to School." As nouveau riche buffoon Thornton Melon, Dangerfield is, well, back at school, and when he is assigned an English paper on Vonnegut, he hires the man himself to help him with it. Vonnegut has just one line of introduction, although when the resultant paper gets an F (shades of the famous Marshall McLuhan cameo in "Annie Hall") with his teacher (Sally Kellerman) fuming, "Whoever did write this doesn't know the first thing about Kurt Vonnegut," the "Slaughterhouse Five" author gets an irate call from Dangerfield, who threatens to go with Robert Ludlum next time. Interestingly, Keith Gordon, who played Dangerfield's son in the film, went on to direct a number of films, including "The Singing Detective," "A Midnight Clear," and an adaptation of Vonnegut's novel "Mother Night" in 1996.