"There's No Story In The Book!": Six Films Adapted From Non-Narrative Nonfiction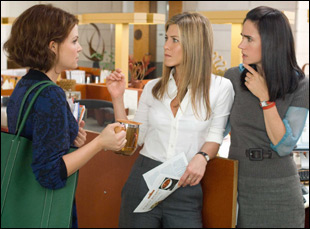 Posted by Matt Singer on
"He's Just Not That Into You" is a great title. Born from a "Sex in the City" episode, it's adorned a bestseller (by Greg Behrendt and Liz Tuccillo) and as a phrase has quickly wormed its way into the lexicon. Now it's got its own movie, too, opening this Friday and starring a slew of stars including Jennifer Aniston, Ben Affleck, Drew Barrymore, Jennifer Connelly, Ginnifer Goodwin, Scarlett Johansson and Justin Long. What it does not have, at least in book form, is a story. "HJNTIY" is a dating advice book, a guide for women who can't get it through their heads that the dude they're interested in isn't reciprocating. It's long on helpful tips and sarcastic quips, but not necessarily on plot or character developments. That's an extra-heavy burden for the film's screenwriters, Abby Kohn and Marc Silverstein, who must fashion an entire story that can stand as its own entity while staying true to the spirit of the book it's kinda-sorta adapting. But Kohn and Silverstein aren't the first to tackle this challenge. Here's a look at how six other sets of filmmakers removed the nons from non-narrative nonfiction.
"How to Succeed in Business Without Really Trying" (1967)
Written and directed by David Swift
Based on Shepherd Mead's "How to Succeed in Business Without Really Trying"
"This book is all that I need!" J. Pierrepont Finch (David Morse) proclaims in the title number of "How to Succeed in Business Without Really Trying." That book, of course, is the book, "How to Succeed in Business Without Really Trying" by Shepherd Mead, the inspiration for the Tony Award-winning musical and its cinematic adaptation. The play and movie's conceit is that Finch, a rising star at the World Wide Wicket Company, comes by his success through strict adherence to the tenets of said book, a tongue-in-cheek how-to guide to climbing the corporate ladder (subtitled "The Dastard's Guide to Fame and Fortune"). When in doubt, Finch reads from the book and a Voice of God narrator shares the lessons it imparts; the only guy at World Wide Wickets who even attempts to sabotage Finch's plans is the only other guy in the place with a copy of Mead's book. Mead fans in the audience will also notice how most of Frank Loesser's lyrics to the title song are chapters in the book ("How to apply for a job!" / "How to advance from the mailroom!"). One question: Mead's "How to Succeed" illustrates its points with imagined scenes featuring a young man named Pierrepont Finch. Shouldn't Finch notice this incredible coincidence?
It's Obvious This is Based on a Non-Narrative Nonfiction When… you realize that each song is designed to cover a different topic from the book. There's one about mistreating your secretary, there's one about doing things "the company way," there's one about how the advancement is dictated by familial or collegial (or sexual) connections, and so on.
"Everything You Always Wanted To Know About Sex* (But Were Afraid to Ask)" (1972)
Written and directed by Woody Allen
Based on David Reuben's "Everything You Always Wanted To Know About Sex But Were Afraid to Ask"
Dr. David Reuben wrote his 1969 question-and-answer guide to the world of sexual intercourse "simply to make available all the facts on the subject." He was discouraged by the amount of ignorance in ordinary Americans about their own bodies. "A jet pilot propels his airliner through space at 600 miles per hour," he wrote in the book's introduction, "yet he cannot propel his own penis seven inches into a vagina."