The White Stripes Send Off Conan Tonight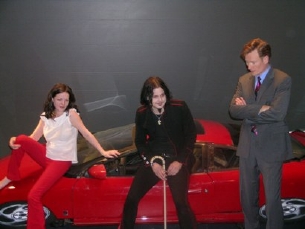 Posted by Jim Shearer on
Tonight Conan O'Brien will host his final episode of Late Night, before moving out west to take over duties for Jay Leno on The Tonight Show, which he will begin hosting on June 1.
Jimmy Fallon will sit behind Conan's old Late Night desk beginning on March 2.
Fittingly, The White Stripes will be closing out the festivities for Conan. Jack and Meg are big fans of the show, as is Conan of The White Stripes, even giving them a full week of musical-guest-face-time when the band released their Elephant album in 2003.
You may also remember that Conan appears in (and lends his Late Night set to) The White Stripes' "Denial Twist" music video, directed by Michel Gondry (2005).
(Speaking of nationally televised live music performances, don't forget Kanye West will be the musical guest on SNL this weekend.)