Make The Decemberists a Poster in March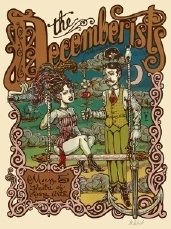 Posted by Jim Shearer on
On the opening music night of SXSW (March 18), The Decemberists will headlining the NPR showcase at Stubb's BBQ, performing in its entirety, their forthcoming album (March 24), The Hazards of Love.
(left: As you can see, there have been some good Decemberists posters made in the past. The competition is gonna be tough.)
To commemorate the debut of The Decemberists new material Capitol Records and imeem are inviting fans to design a poster for the occasion. The winning poster will be picked by The Decemberists.
To enter, go HERE.
The opening acts for the NPR Showcase will be The Avett Brothers and Heartless Bastards. The Decemberists will also be joined on stage by Lavender Diamond's, Becky Stark, and My Brightest Diamond's, Shara Worden, both ladies lent vocals to The Hazards of Love.
The showcase will also be streamed live on NPR.