LOOKBACK AT A SOUNDTRACK: The Blues Brothers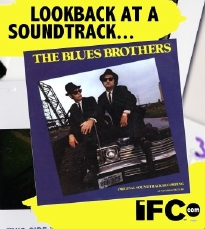 Posted by Jim Shearer on
Just with its hall-of-fame talent alone, The Blues Brothers is arguably one of the best music movies ever made. It also helps that Cab Calloway, James Brown, Ray Charles, John Lee Hooker, and Aretha Franklin's cameos never feel forced–they're perfectly interwoven throughout the storyline and their performances are allowed to breathe without any interruption.
(left: "Who here at this table can honestly say that they played any finer or felt any better than they did when they were with the Blues Brothers?")
As expected, a film using music as its backbone boasts one hell of a music soundtrack, one that has been passed down from father to son–from vinyl to cassette to CD to MP3–ever since its release in 1980. The Blues Brothers soundtrack has become so popular over the years, there are many people who can sing it song-for-song, word-for-word without ever having seen the film it represents. Few soundtracks can make that claim.
In 2009, the concept of both The Blues Brothers film and soundtrack sounds like a train wreck waiting to happen (or better yet, a high-speed car chase through a crowded mall); let's get two white comedians, have 'em sing black soul music, and pair 'em up side-by-side with some of the biggest names in the genre. Though their shtick didn't go without criticism, if John Belushi and Dan Aykroyd couldn't carry a tune (or exude a little bit of soul), we wouldn't be talking about The Blues Brothers soundtrack almost 30 years later. For a bunch of kids growing up in the 80's, myself included, The Blues Brothers–which has been played countless times over the years on basic cable–gave us our first introduction to the world of rhythm and blues music.
Like most albums compiled before the digital age, The Blues Brothers soundtrack only features 11 tracks, which means not every musical number in the film is represented. In an age where we market the life out of everything, it's almost unthinkable that John Lee Hooker's "Boom Boom" did not make the cut.
That being said, every track on The Blues Brothers soundtrack is not only an exceptional song, but will immediately take you back to a moment in the film. If I say "Minnie The Moocher" what do you picture in your head? How 'bout the theme song to Rawhide? I can't tell you how many touring bands can relate to that scene at Bob's Country Bunker. "Everybody Needs Somebody to Love"? Say what you will about Dan Aykroyd today, but his intro on this song still gets me pumped up.
We also can't forget about another one of the soundtrack's stapels, the cover of "Peter Gunn Theme," a song that many associate solely with The Blues Brothers, more so than the television series it represented years earlier.
Including big names on a movie soundtrack doesn't make it special, considering any film with deep pockets can pretty much pluck any song from any artist they like. What makes it work on The Blues Brothers soundtrack is that every big name on the album can be put in context with a scene in the film, making Aretha Franklin's "Think," Ray Charles' "Shake A Tail Feather," and James Brown's gospel-drenched "The Old Landmark" that much more meaningful.
If The Blues Brothers is arguably one of the most memorable films about music ever made, what does that say about its soundtrack?