Ten Oscar-winning Songs That Actually Hold Up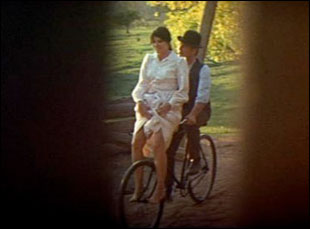 Posted by Brandon Kim on
Music has accompanied film almost since film's invention, whether performed live, cued off rudimentary wax cylinders or digitally recorded. When thoughtfully employed, a song can lift a scene from the boundaries of entertainment into the realm of art. "The Jazz Singer" featured synched songs back in 1927, but it wasn't until 1934 and the 7th Academy Awards that Oscars were given out for them.
The greatest of these songs take on a life of their own, and, though they may always recall the film for which they were conceived, stand on their own merit. But plenty of other prizewinners don't, particularly once you get past the golden age of the movie musical — quick, hum 2006 champ "I Need to Wake Up," from "An Inconvenient Truth."
With the 81st ceremony approaching and two Bollywood-inflected tunes from "Slumdog Millionaire" going up against Peter Gabriel's Grammy-anointed "Down to Earth" from "WALL-E," it seems a good time to look through the Academy annals to see how meaningful this award actually is in the cultural big picture. Here are the ten I've chosen for demonstrating the best staying power, influence and legacy. The more recent years seem to be at a disadvantage.
"The Way You Look Tonight" (1936)
From "Swing Time"
Music by Jerome Kern; Lyrics by Dorothy Fields.
Since Fred Astaire sat at a piano and sang this ditty in to Ginger Rogers in 1936, it's been sung by every crooner from Frank Sinatra to Rod Stewart — Billie Holiday and Ella Fitzgerald recorded their takes, too. One version or another plays at every wedding, and it's easily the most reproduced song in film on this list, appearing in at least 20 major films, from "Chinatown" to "Hannah and Her Sisters" to "Father of the Bride" to "Catch Me If You Can," ensuring it keeps that breathless charm seven decades on.
"Over the Rainbow" (1939)
From "The Wizard of Oz"
Music by Harold Arlen; Lyrics by E. Y. Harburg
"The Wizard of Oz" was released on August 25, 1939, and delighted Depression-era American audiences with a dreamy iconic ballad of longing and escape. Exactly one week later, Hitler had decided he was over Poland and Europe entered World War II in earnest — imagine the cross-cutting montage between those two realities set to "Over the Rainbow." It wasn't long before America entered the war and, intentionally or not, the song would take on greater meaning to those same audiences. It was a tune for the times, then and now.
"When You Wish upon a Star" (1940)
From "Pinocchio"
Music by Leigh Harline; Lyrics by Ned Washington
This song has become synonymous with the vast Disney empire and, inescapably, the childhood of any American (makes no difference who you are). There was a dismal stretch through the '90s of cheesy best original song Oscar-winners from animated films, and just maybe a few will stand the test of time, but this one will always be the first.