Ten Performances We Can't Wait to Watch This Spring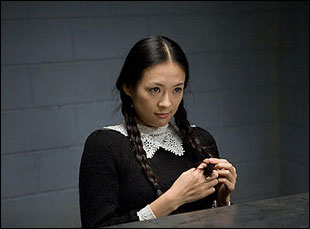 Posted by Matt Singer on
Ziyi Zhang in "Horsemen"
Directed by Jonas Akerlund
Opens March 6
The trailer and the premise — a detective on the trail of a killer (or killers) murdering people in homage to each of the Four Horsemen of the Apocalypse — make this look like one JASK-y movie (that's "Just Another 'Se7en' Knockoff"). But then there is the against-type casting of Ziyi Zhang (or Zhang Ziyi; there's so much continued confusion over how this poor woman prefers to be credited that even the "Horsemen" trailer and poster disagree about it) as a suspect in the case. Western audiences are mostly familiar with Zhang in martial arts epics ("Crouching Tiger, Hidden Dragon", "Hero") playing unquestionably moral characters. There's something quite unsettling — and thus quite interesting — about seeing her cast in a darker role, acting sexily demure while gruff Dennis Quaid tries to interrogate her, or in some kind of weird snuff film, whispering in the victim's ear, "Do you feel expendable yet?" This movie might have been without her. Thanks to Zhang, it's one to keep on the radar.
Billy Crudup in "Watchmen"
Directed by Zack Snyder
Opens March 6
It may have been a struggle for Billy Crudup to create the near-omnipotent, often totally naked Dr. Manhattan — performing his scenes in a white mocap suit covered in blue lights had to be so precise that Crudup told Entertainment Weekly that if he "caught the slightest glimpse of [himself] in any reflecting surface, the illusion was crushed" — but the results look remarkable, if the trailer's anything to go by. Not only does the finished character look exactly like the Dr. Manhattan of the "Watchmen" comic books, it still bears an eerie resemblance to Crudup himself.
Writer Alan Moore and artist Dave Gibbons' conception of Dr. Manhattan was a man given the gift of god-like powers at the cost of his humanity. "Why would I save a world I no longer have any stake in?" he asks dispassionately. Crudup and director Zack Snyder's interpretation appears to remain faithful to its source — that important line appears in the film's latest trailer — but in seeing the early glimpses of their work, there could be potential here for additional metaphors Moore and Gibbons never intended about the nature of computer generated imagery, which can give movie directors god-like powers in crafting digital performances that are technically flawless and utterly inhuman.
Michael Fassbender in "Hunger"
Directed by Steve McQueen
Opens March 20
Steve McQueen's Camera D'Or-winning picture from last year's Cannes Film Festival about the true story of a hunger strike in a Belfast prison earned sterling notices across the board, but everyone I spoke to about the film in the South of France only wanted to talk about one thing: the performance of Michael Fassbender as Bobby Sands, the leader of the strike and the first of ten prisoners who died during it. The performance required an enormous amount of both physical and mental preparation. To approximate Sands' starvation, Fassbender pulled a reverse "Raging Bull," dropping more than 50 pounds over the course of a ten-week diet of nuts and berries. For a scene between Sands and a priest (played by Liam Cunningham) that McQueen wanted to shoot in an unbroken 20-minute take, the actors rehearsed 15 to 20 times a day during the week leading up to the shoot. "When we arrived on set we just went straight into it," Fassbender told the Belfast Telegraph. "Take one, 23 minutes, right through. We did four takes, and they used the fourth." Judging from the critical response so far, it was well worth the effort.