Spring Preview: Rian Johnson on The Festival of Fakery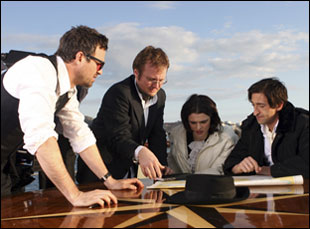 Posted by Stephen Saito on
When Rian Johnson attended USC in the '90s, he had a certain criteria that needed to be met when choosing an apartment. "It was walking distance from the New Beverly," says Johnson, who's been living in the same place near the venerable Los Angeles revival house ever since. Thanks to a collision of fate, whimsy and just a little bit of conniving reminiscent of his latest film, the thoroughly delightful conman caper "The Brothers Bloom," Johnson will take over programming duties at the theater starting tonight in what's being billed as "Rian Johnson's Festival of Fakery, a week of films regarding frauds, fakers, charlatans, hoaxters, huxters and other unsavory sorts." Johnson follows other recent guest programmers at the theater that include Edgar Wright, Diablo Cody and Peter Bogdanovich, and will be onhand every night of the festival to give introductions to the films. Fortunately, if you're not in L.A. this week, I got the writer/director to talk a little bit about his picks, (almost) all of which you can watch at home:
February 18 & 19:
Rian Johnson's "The Brothers Bloom" (2009) and Frank Oz's "Dirty Rotten Scoundrels" (1988)
We're starting off with "Brothers Bloom" and "Dirty Rotten Scoundrels," which is terrifying for me — the prospect of putting "The Brothers Bloom" in the company of any of these movies is, but "Dirty Rotten Scoundrels" in particular, because not only is it one of my favorite con movies, it's one of my favorite comedies. People sometimes forget how good a con man movie it is, how well it works on that level, because it's so well known as a comedy. But in terms of a classic form of how a con man movie can hit an audience just right at the end, it does its job really well.
When we put the festival together, I didn't plan on doing a screening of "Bloom." It came that way because we couldn't get a couple other choices and eventually I just realized well, why not? Originally, I wanted to do "Paper Moon" along with "Dirty Rotten Scoundrels," but Peter Bogdanovich had just shown it with his festival [two weeks before]. I thought we could do "The Last of Sheila," but we couldn't find a print, and then I really wanted to do the original "Sleuth," which is one of my favorites, and there was a problem of tracking that down.



February 20 & 21:
David Mamet's "House of Games" (1987) and "The Spanish Prisoner" (1997)
I'm excited because I haven't seen "Spanish Prisoner" in a long while and I think in terms of the con, "House of Games" is definitely Mamet's masterpiece. I actually first saw it in college and just recently got the Criterion disc that they released of it — I just love Joe Mantegna in the movie. I love the way that it's such a heady dissection of the con game and of deception. It's one of my favorite films. So it's a David Mamet twofer that night.
February 22 & 23:
George Roy Hill's "The Sting" (1973) and John Huston's "The Man Who Would Be King" (1975)
"The Sting" was my first exposure to the conman genre. It probably was for a lot of people. Redford and Newman, the reason it's still dearly loved today is the chemistry between those two guys, but I also think it's really well-crafted…it's a pioneering con man movie. It was one of the first to do that particular "big twist at the end con" and pull it over on the audience. I'm curious when people see the film for the first time, having the cultural knowledge of the past 20 or 30 years now, [what] they [are going to think]. And "The Man Who Would Be King" is one of my top films of all time. I just…I deeply, emotionally love that film. [laughs] It's not exactly a con man movie, but there's a loose connection within it, and any excuse I could get to see it on the big screen I'll take. And then the next night we get into the heavier regions of fakes and fakery…