Spring Preview: Anywhere But a Movie Theater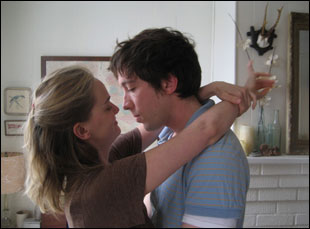 Posted by Stephen Saito on
Film releases certainly aren't limited to theaters these days — here's a rundown of titles making their way to you via alternative pathways.
On Demand
Our sister company IFC Films made a splash at this year's Sundance with the announcement of a partnership with the SXSW Film Festival to premiere four of the festival's picks concurrent with their debut in Austin. Joe Swanberg's latest, "Alexander the Last," headlines the group making their on demand debut on March 14, along with Australian comedy "Three Blind Mice," Bulgarian noir "Zift" and SXSW '08 alums "Medicine for Melancholy" and "Paper Covers Rock."
On DVD
It's a sign of the times that a serviceable Tommy Lee Jones thriller can sit alongside the latest from Steven Seagal at your local Blockbuster, but "In the Electric Mist" is far more interesting than the actor's paycheck output of the late '90s, even if it is missing 15 minutes from its international version and half of its original title. Bertrand Tavernier's adaptation of James Lee Burke's bayou murder mystery "In the Electric Mist with Confederate Dead" is steeped in Cajun culture, with far more attention being paid to the post-Katrina landscape and New Iberia's colorful characters (gamely played by a supporting cast including John Goodman, James Gammon, Peter Sarsgaard and Kelly MacDonald) than its storyline, which follows Jones' Detective Robicheaux working overtime on the murder of a dead hooker and what appears to be a racially motivated cold case. The addition of Robicheaux's conversations with a supernatural Confederate ghost probably didn't help its standing with potential theatrical distributors, but such quirks set "Mist" apart from cookie cutter thrillers like Jones' own "Double Jeopardy." Less than two weeks after it played Berlinale, it can be watched in the comfort of your home on March 3rd, much like the rest of these indie films that are bypassing the big screen in the months ahead:
February 24
"Extreme Movie"
Something funny happened on the way to the multiplex for this sketch comedy film, which was inexplicably removed from the Dimension release schedule late last year. Even with an appearance from Michael Cera and a script cobbled together by half the "Saturday Night Live" writing room in Will Forte, John Solomon, Andy Samberg, Avika Schaffer and Jorma Taccone, among others, the 75-minute sex spoof is being sent straight to DVD. But it couldn't be worse than what those "Meet the Spartans" guys come up with, right?
"Jam"
Surprisingly, the first feature from professional trailer cutter Mark Woollen, whose work includes the striking teasers for "Milk" and "Little Children," never made it to the multiplex after winning the best documentary prize at SXSW in 2006. The roller derby doc has, however, made it into the rotation of the Sundance Channel and will finally see a release through their DVD label.
"Lullaby"
Fans of Melissa Leo's performance in "Frozen River" might want to consider the other 2008 film she starred in as a Tennessee waitress shaken down by drug dealers who are holding her ne'er-do-well son hostage in Johannesburg. Following an appearance at last year's Method Fest, the Darrell James Roodt-directed drama is hitting DVD.
Other indies that played theaters, but you might've missed: The soldier's homecoming drama "Badland," "Chris and Don: A Love Story," "Dear Zachary: A Letter to a Son About His Father," the war profiteer doc "Disarm," the Irish romance "Eden," "Hounddog," the unconventional 2004 Japanese chiller "Late Bloomer," the Japanese retiree drama "Man Walking on Snow," the acclaimed doc "The Matador," the Minnie Driver drama "Take," "What Just Happened"
March 3
"The Burning"
If "Carrie" had a sister and she were Japanese, it might look something like this thriller from director Kenta Hayashida about two twins with pyrokinetic abilities, though one has been diagnosed with a brain tumor.
"Dead in 3 Days"
An Austrian horror film that's been making the rounds of horror/fantasy festivals since 2006, this Dimension Extreme release about a group of friends who become the target of a homicidal maniac is finally docking on U.S. shores. Think "Friday the 13th," especially since said friends live near a lake.
"Protégé"
The Weinstein Company's Dragon Dynasty label is giving yet another comprehensive release to a celebrated Hong Kong actioner that never found U.S. distribution. This time, it's the 2007 drama "Protégé," which stars "Infernal Affairs"' Andy Lau as a businessman by day and drug kingpin by night who preparations for retirement don't go exactly as planned when he appoints an undercover cop (Daniel Wu) to be his successor.
"Real Time"
The opening night film of last year's Slamdance Film Festival, this Canadian comedy stars "Undeclared"'s Jay Baruchel as a degenerate gambler who's told by a hit man (Randy Quaid) that he only has one hour left to live and spends the next 60 minutes doing the unexpected.
"Weapons"
"Bomb the System" director Adam Bhala Lough's multi-stranded sophomore feature about a small town plagued by a series of interconnected teen murders provoked plenty of heated discussions (and many negative reviews) at Sundance in 2007 and scored a million-dollar distribution deal from After Dark Films, though it never made it to theaters. Now, Lionsgate is releasing the Paul Dano-Nick Cannon drama direct-to-DVD.
Other indies that played theaters, but you might have missed: "I've Loved You So Long," the Sissy Spacek-Troy Garity potboiler "Lake City," the John Ratzenberger drama "The Village Barbershop," the Thai romance "Wonderful Town," the German corporate thriller "Yella"