Spring Preview: A Repertory Calendar for the Coasts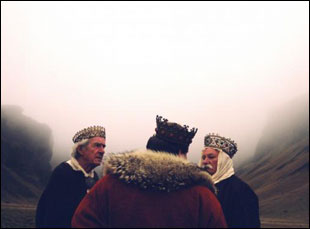 Posted by Stephen Saito on
There's no need to focus all your attention on new releases, particularly not when spring is studded with enough fantastic repertory scheduling to fill your every evening. Here's a look at what's been planned in New York and L.A.
New York:
Catalan filmmaker Albert Serra returns to the Anthology Film Archives from Feb. 25-March 3 to present his latest film, "Birdsong," an atmospheric retelling of biblical Three Wise Men story with an eye towards the desert landscape they were traveling [pictured left], in addition to Mark Peranson's experimental making-of "Birdsong" doc, "Waiting for Sancho," which will show on Feb. 28 and March 1… On March 4, '60s underground filmmaker Jose Rodriguez Soltero will get a double feature of two newly restored prints of his 1965 exploration of narcissism, "Jerovi," and the 1966 celebration of Mexican Hollywood star Lupe Velez, "Lupe."… From March 5 through 15, one of America's finest character actors gets a retrospective when Rip Torn presents his eclectic body of work, including Norman Mailer's "Maidstone" (March 5 and 11) and "Beyond the Law" (March 9 and 15), Daryl Duke's rough-and-tumble character study "Payday" (March 5, 8, and 13), Moses Milton Ginsberg's voyeuristic drama "Coming Apart" (March 6 and 10, with Ginsberg introducing on the 6th), Alan Rudolph's "Songwriter" (March 6 and 10), the Jean-Luc Godard-D.A. Pennebaker-Ricky Leacock collaboration "One P.M." (March 7, 12, 15), Richard Brooks' "Sweet Bird of Youth" (March 7 and 14), Ira Sachs' "Forty Shades of Blue" (March 7 and 14), Cornel Wilde's "Beach Red" (March 8 and 12), Karl Malden's rarely seen directorial debut "Time Limit" (March 8 and 11), Joseph Strick's "Tropic of Cancer" (March 10 and 13), and "Lucky Days," the premiere of the Coney Island-set drama directed by Torn's two children Angelica and Tony, on March 14, preceded by a collection of the elder Torn's TV work… Abstract filmmaker Coleen Fitzgibbon will present some of her early work on March 6 and 7… The Flaherty NYC Seminar shows work from Jacqueline Goss ("Stranger Comes to Town") and Joshua Weinstein ("Flying on One Engine") on March 9… The Bronx-born Kuchar Brothers get a retrospective of their experimental shorts from March 11-17, from their earliest home movies to George Kuchar's "Classroom Cavalcades" from his time teaching at the San Francisco Art Institute… Appropriately enough, George Kuchar is also included in the presentation of "Treasures IV: American Avant-Garde Film, 1947-1986," the newest DVD collection from the the National Film Preservation Foundation, from which highlights including the work of Stan Brakhage, Andy Warhol and Jonas Mekas, will be shown on March 18 and 19 in honor of the DVD set's impending release… Michel Auder takes his career as a video artist and diarist to an extreme with this 177-minute quasi-autobiography, "The Feature," which will be shown from March 18-24… Multidisciplinary artist Elaine Summers will be at the Archives on March 28 for an evening of her unique brand of live performance and film… On April 9-12, the Archives will follow up with a Chelsea Hotel tribute comprised of films including Andy Warhol's "The Chelsea Girls" and Alex Cox's "Sid and Nancy," among others…. Legendary avant-garde filmmaker Hollis Frampton's kaleidoscopic seven-part "autobiography" and examination of film will be presented in full over six nights at the archives from March 25-31… Following February's MoMA tribute to the man called the father of public access television, the Archives are hosting a tribute all their own to the documentary filmmaker and NYU film professor George C. Stoney every Wednesday in April, starting on the 8th… "David Holzman's Diary" director Jim McBride will also get a retrospective from April 8-13, with rare screenings of his 1970s output like the 1974 sex comedy "Hot Times" and 1971's sci-fi nuclear war adventure "Glen and Randa."…The Archives plans to fill the void left by the dearly departed New York Underground Film Festival with the Migrating Forms Film Festival, running from April 15-19… The late Shirley Clarke surely would've appreciated such a festival, but the pioneering experimental filmmaker will get a retrospective of her own from April 22 through 28… And Swiss filmmaker Thomas Imbach, who popularized mixing film with video, brings his documentary/narrative hybrids like 2001's "Happiness is a Warm Gun" to the Archives on April 24 through 26.
Film Forum
Continuing its "Breadlines and Champagne" series of Depression-era films, the Film Forum plays host to double bills of "Dead End" and "Three on a Match" (Feb. 20), "Scarface" and "Blood Money" (Feb. 21), "It Happened One Night" and "Bombshell" (Feb. 22-23), Mervyn LeRoy's "Little Caesar" and "Two Seconds" (Feb. 25), "No Greater Glory" and "This Day and Age" (Feb. 26), "Mr. Deeds Goes to Town" and a restored "Theodora Goes Wild" (Feb. 27), "King Kong" and "42nd Street" (Feb. 28), the musicals "Golddiggers of 1933" and "Footlight Parade" (March 1), "Me and My Gal" and "Central Park" (March 2), "Counsellor at Law" and "The Mouthpiece" (March 4), "Upperworld" and "Night World" (March 5). For those really looking to pinch a penny, there are also two triple features: "Female," "Ex-Lady" and "Mills of the Gods" (Feb. 24), and "Taxi!," "Lawyer Man" and "Blonde Crazy" (March 3)… Restored prints of John Stahl's 1945 melodrama "Leave Her to Heaven" (March 6-12) and Costa-Gavras' "Z" (March 13-26) follow… Film Forum also remembers the late Jules Dassin with a two-week retrospective that mixes the noir specialist's classics such as "Night and the City" (March 27-28), a double bill of "The Naked City" and "Thieves Highway" (March 29), "Brute Force" (April 2) and "Rififi" [pictured right] (April 3-4) with many of his lesser known (and mostly still-unreleased-on-DVD) films like Dassin's first film, "Nazi Agent," which shares a double bill with the Joan Crawford-John Wayne starrer "Reunion in France" (March 30), his 1958 African-American-cast remake of "The Informer," "Up Tight!" (March 31), and his collaborations with his wife, actress Melina Mercouri, starting with "He Who Must Die" (April 1-2) and subsequent double features of "Topkapi" and "Never on Sunday" (April 5) and "10:30 PM Summer" and "The Rehearsal" (April 6), and "Phaedra" and "A Dream of Passion" (April 7)… Another noir king's underappreciated career detour is being dusted off when Jean-Pierre Melville's 1961 Occupation drama "Léon Morin, Priest" plays a week-long engagement (April 17-23), followed by a week-long run of Luis Buñuel's "Viridiana" (April 24-30).