Spring Preview: A Guide to the Season in Indie Film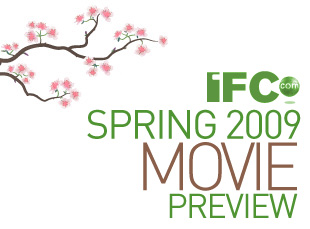 Posted by Stephen Saito on
Spring is a season of renewal, particularly in the movie business, where the completion of the awards derby allows Amy Adams to segue from playing a solemn nun in "Doubt" to a klutzy crime scene cleaner in "Sunshine Cleaning." Along with "Sunshine," there are plenty of festival favorites about to get their day in the sun, whether that's in theaters, on DVD or on demand online or on TV. This preview recognizes the many ways to get your indie film fix, as well as the special events you might want to head out to if you live in New York or Los Angeles, including "The Brothers Bloom" director Rian Johnson's week-long con man movie "Festival of Fakery" at L.A.'s famed New Beverly Cinema, about which we recently spoke to the director. But regardless of whether we're watching films from the past or present, we're looking forward to the next couple months. (And in the spirit of renewal, you might've noticed we have a new look, too.)
February 18
"Katyń"
The Cast: Maja Ostaszewska, Artur Zmijewski, Andrzej Chyra, Danuta Stenka, Jan Englert, Magdalena Cielecka, Pawel Malaszynski, Agnieszka Glinska
Director: Andrezj Wadja
Fest Cred: Berlin, Tribeca, Karlovy Vary, São Paulo, among others
The Gist: Nominated for a foreign-language film Oscar in 2008, the latest feature from one of Poland's most legendary filmmakers returns to the site of where Wadja's own father was killed in the Katyń Forest Massacre of 1940 at the hands of the Soviet secret police. "Katyń" weaves multiple storylines into a broad perspective of the tragedy, from a Polish soldier who stays with his unit in spite of the pleas from his wife to a man who rewrites history to shift the blame. As the first film to tackle the subject, "Katyń" proved to be a major success in its home country.
February 20
"Must Read After My Death"
Writer/Director: Morgan Dews
Fest Cred: IDFA, L.A., Vancouver
The Gist: Like many documentarians before him, when Morgan Dews rummaged through a box of his grandmother's things from the 1960s, the audio diaries, home movies and photographs that poured out proved to be the stuff of a movie. The film that ultimately emerged documents the crumbling marriage of a Connecticut couple that went into therapy long before it became popular in the U.S., yielding mixed results for the couple and their four children.
"Eleven Minutes"
Directors: Michael Selditch and Robert Tate
Fest Cred: Philadelphia, Hot Docs, Frameline, Outfest
The Gist: For those who can't enough of "Project Runway," reality TV vets Selditch and Tate follow a year in the life of another reality TV vet, "Project Runway" season one winner Jay McCarroll, as the husky fashion designer fine-tunes his first show for New York's Fashion Week. Fans of "The Hills," don't feel left out: passive-aggressive designer Kelly Cutrone makes a cameo.
February 27
"Crossing Over"
The Cast: Harrison Ford, Jim Sturgess, Ray Liotta, Ashley Judd, Summer Bishil, Cliff Curtis, Alice Eve, Jaysha Patel, Merik Tadros, Alice Braga
Director: Wayne Kramer ("The Cooler")
The Gist: Although Sean Penn had himself removed from this long-delayed ensemble drama about illegal immigration, Harrison Ford attempts to make amends with the movie gods for passing on "Traffic" by playing an immigration enforcement officer who conducts raids for mass arrests in Los Angeles. Others affected in this top-down tapestry include Cliff Curtis as Ford's partner, Ray Liotta as a morally ambiguous INS adjudicator, Ashley Judd as his wife, Jim Sturgess and Alice Eve as a British couple with passport problems and Alice Braga as an illegal immigrant deported away from her son.
"Bob Funk"
The Cast: Michael Leydon Campbell, Rachael Leigh Cook, Stephen Root, Grace Zabriske, Khelo Thomas, Lucy Davis, Alex Désert, Eddie Jemison
Writer/Director: Craig Carlisle
The Gist: The "acerbic yet irreverently charming" Bob Funk's days of being a happy, opinionated drunk are destined to end if he's to woo his comely new co-worker (Rachael Leigh Cook) and win back his old job as an executive in the family business in this comedy, the feature directorial debut of Carlisle, who originated "Funk" as a play.
"Echelon Conspiracy"
The Cast: Shane West, Edward Burns, Ving Rhames, Martin Sheen, Jonathan Pryce
Director: Greg Marcks ("11:14")
The Gist: After an engineer (West) receives an unmarked package with a state of the art cell phone inside, he begins receiving texts that bring him good luck (the film original title was "The Gift"). Of course, things can't go well forever, and he discovers he's the center of a plot to put unlimited surveillance powers in the wrong hands.
"The Trouble With Romance"
Cast: Jordan Belfi, Roger Fan, John Churchill, Josie Davis, Sheetal Sheth, Kip Pardue, Jennifer Siebel
Director: Gene Rhee
Fest Cred: San Francisco Asian-American, Cinequest
The Gist: Rhee makes his feature debut following his Sundance 2002 short, "The Quest for Length," with an indie take on "He's Just Not That Into You," only with characters that may be too into each other. Spread out across four vignettes titled "Bang," "Spice," "Dump" and "Love," this dramedy centers on four couples working out their problems in an L.A. hotel.
"Robert Blecker Wants Me Dead"
Director: Ted Schillinger
Fest Cred: Honolulu, Rhode Island, USA, Cork
The Gist: Don't read too much into the title unless you've been convicted of a capital crime, but the film follows the titular Blecker, a New York Law School professor and leading advocate of the death penalty (or in his words, "emotive retributivist") who fosters an unexpected friendship with Daryl Holton, a Tennessee death row inmate who is facing imminent execution.