Sports Are Gayer Than You Think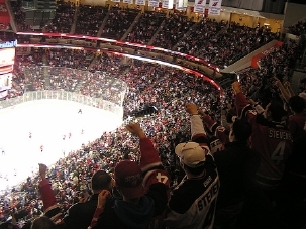 Posted by Jim Shearer on
Besides tinkering in independent music blogs, I'm also a big fan of ice hockey. This week I attended my third Pittsburgh Penguins away game of the season. The Pens–as we like to call them in Pittsburgh–are my favorite hockey team, and living here in New York City puts me smack dab in the middle of enemy territory, with the New York Rangers, New Jersey Devils, and New York Islanders all playing nearby. And if I'm really feeling the hockey fever, I'm also just a 2-hour bus ride away from Philly (speaking of enemy territory).
Unfortunately, the Pens have lost every game I attended this season–two in overtime shootouts (ouch). Maybe more painful than the losses though is listening to some of the stuff coming out of the mouths of hockey fans–which unfortunately, is pretty much on par with the rest of the sports world.
(above: Show of hands please…who here needs to take a sensitivity training course?)
Late last year while entering Madison Square Garden–wearing my favorite Pens throwback jersey–I was greeted by a New York Rangers fan. Did he welcome me with open arms saying, "Hello friend, welcome to the World's Most Famous Arena"? Nope. I didn't even get a head nod, all I got was, "Crosby's a QUEER!" Wait, what? Sidney Crosby is gay? You sure? Back in Pittsburgh, women throw themselves at his feet.
Later in the game, after the Pens' goalie, Marc Andre Fleury, made a save, a Rangers fan–in front of several snickering children–shouted, "Fleury's a FAG!" Whoa, Fluery too? Just cause he speaks with a European accent and his last name is French for "flower" doesn't mean he's gay, does it?
Frequently throughout the game, and what has become a tradition at the Garden, Rangers fans will also chant "Potvin SUCKS!," a reference to hall of fame defenseman, Dennis Potvin, who played for the rival New York Islanders years ago. This is just a guess, but if he "sucks" does that mean Rangers fans are insinuating he's a homosexual as well?
Throughout my years of attending sporting events, I've heard it all. Go to any arena, stadium, park, fieldhouse, or coliseum, and it won't take you long to find someone blurting out offensive words, and I'm not talking about "run," "pass," "block," or "shoot."
Last year while attending Game 5 of the Stanley Cup Finals in Detroit, a Red Wings fan yelled something to me as I made my way to the bathroom, "Pittsburgh Penguins fans are GAY!" I confusingly turned my head, looked at him for a second, and continued walking.
How do you respond to something like that? I wasn't insulted. I don't think of being gay as a bad thing. Many of my friends are gay, so if I'm ever called gay (like I usually am at away hockey games), I just associate myself with them and take it as a compliment. And if you break it down–certainly–there are gay Penguins fans. It would be inaccurate to say that all Penguins fans are gay, but–
The Red Wings fan's intention wasn't for me to analyze his comment, he just wanted to get some cheap heat out of a Pens fan. Even though I'm not offended by being called "gay," what is offensive, is that this type of behavior seems to be totally acceptable under the roof of a sporting event. If a 12-year old kid hears his dad call an opposing quarterback a "faggot," with fellow adults wearing grins as wide as a football field, what do you think he's going to be doing ten years down the line?
Hate speech shouldn't be tolerated on the local street corner or in the bleacher seats overlooking the hot corner.
To any foul-mouthed, beer-swilling, bleacher bum, you may want to think twice about hurling a homophobic slur at the next sporting event you attend. I hate to break it to you, but by liking sports, you may be gayer than the stereotypes you perpetuate:
Turn on any championship game and you will see grown men–with tears streaming down their faces–unabashedly hugging each other.
Smacking another man's butt could be deemed as sexual harassment in the work place, but in the sports arena, not only is totally acceptable, but it's a tradition that's been going on for years and years and years.
How do you think your favorite athletes get clean after a game?
Ever see a handsome, squared-jaw dude, feel the inner thigh of rotund, bear-looking man? No, no, no I'm not talking about anything on the Logo Network. You can actually see this every Sunday afternoon when a center hikes the ball to his quarterback.
Sweaty men in spandex–another one of our favorite Sunday afternoon pastimes!
Playing with balls (sorry, just too obvious to pass up).
And finally, we can't forget about those stadium anthems and dance numbers where thousands and thousands of fans, even the homophobic ones, jockey for love in front of the jumbo-tron cameras. I wonder if they know that many of these techno goodies were hits in gay clubs long before they made it to the sports arena?
When Roger Clemens–100% Grade A American man–used to take the mound, Elton John's "Rocket Man" would blast through the stadium's PA system. Think I should tell them that Elton John was–uh, never mind.
And I always found it pleasingly ironic that the biggest stadium hits in sports–a culture that freely tosses around gay insults with the ease of a Brett Favre shovel pass–are still Queen's "We Will Rock You/We Are The Champions" and The Village People's "YMCA."
So next time you're at a sporting event, singing note for note with Freddie Mercury, just remember there are more creative (and less offensive) ways to insult a player on an opposing team.