Santi is Santi, Not Santo Anymore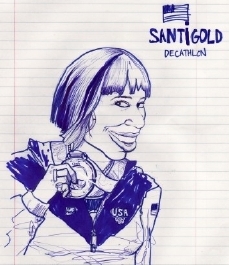 Posted by Jim Shearer on
Her birth name is Santi White, her stage name was Santogold, and if you go to her MySpace page (and a bunch of blogs on the internet today), you'll see that Santogold has changed her name to Santigold.
(left: "O" before "G," except after you get sued.)
Last year, as reported by Stereogum, Santogold was taken to court by the performer Santo Gold. I'm sure this has a lot to do with the name change.
Being that her real name is Santi anyway, Santigold's lucky she only had to tweak a letter instead of adding a year or some type of odd-ball abbreviation to the end of her name. (Isn't that right Charlatans UK, Death From Above 1979, or Ambulance Ltd.?)