Philosophers, Street Fighters and the Jonas Brothers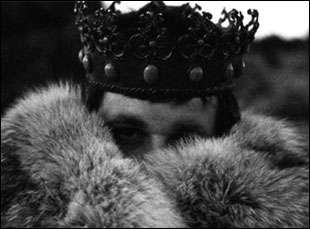 Posted by Neil Pedley on
This week's offerings include an art film about the biblical, a documentary exploring the philosophical, a thriller espousing the dangers of the technological and a film about a badass dude with claws that kills people. We know which one we're going to see.
Subscribe to the In Theaters podcast: [XML] [iTunes]
"An American Affair"
We're a country enamored with the marvels of our great democracy while also continuing a nasty habit of cultivating political dynasties, the thrall of which we continue to find irresistible, and there is no finer example of that than the Kennedy family. Put out by tiny indie distributor Screen Media Films, this feature from director William Olsson charts the coming of age of a young boy named Adam (Cameron Bright) who watches and wonders about John F. Kennedy's affair with a woman (Gretchen Mol) living across the street in 1963.
Opens in limited release.
"Birdsong (El Cant Dels Ocells)"
Celebrated Spanish auteur Albert Serra returns with another austere exploration of history and mythology set against his beloved Catalan landscape. This latest is a mostly silent and largely plotless ramble concerning the Three Wise Men (Lluís Carbó, Lluís Serrat Batlle and Lluís Serrat Masanellas) as they bicker and subsist on crumbs of faith en route through the mountains and across the desert in search of divinity. In Catalan and Hebrew with subtitles.
Opens in New York on Wednesday, February 25th.
"Bob Funk"
Adapted from his own play, Craig Carlisle makes his screen directorial debut with this misanthropic comedy of drink and despair. Michael Leydon Campbell stars as the titular Bob, an inebriated lounge lizard fast-tracking his way to the bottom of the family furniture business, much to the exasperation of his mother and boss (Grace Zabriskie). Rejected by the company's new hire, played by Hollywood's reigning Miss Vanilla Rachel Leigh Cook, this is one kick in the complacency too many for Bob, who vows to kick the booze and turn his life around in order to win her heart.
Opens in limited release.
"Crossing Over"
He might not quite have the resume of Steven Soderbergh, but writer/director Wayne Kramer reworks his 1996 short film, also called "Crossing Over," into a political hot potato story in a way not seen since "Traffic." Slipping effortlessly back to serious scowling mode following "Indiana Jones and the Kingdom of the Really Bad Ideas," Harrison Ford leads an eclectic ensemble of hip newcomers and aging icons including Ashley Judd, Sean Penn, Alice Eve, Alice Braga and Ray Liotta in a multi-stranded culture clash drama set amidst the murky world of illegal immigration in Los Angeles.
Opens in New York and Los Angeles.
"Echelon Conspiracy"
Of course, films are entertainment first and foremost, but they can also teach you things, and one thing that's been made abundantly clear in recent years is that if your phone rings and you don't recognize the number, DO NOT answer it because terrible things will happen. Beaten to the paranoia punch by last summer's "Eagle Eye," director Greg Marcks ("11:14") delivers another high-tech thriller with Big Brother overtones. Shane West stars as the hapless young man targeted by malevolent AI when a brand new cell phone is dropped in his lap and he finds himself embroiled in a dangerous government black bag surveillance program.
Opens in limited release.
"Examined Life"
We might have a little way to go to the Fourth of July, but courtesy of Canadian doc filmmaker Astra Taylor ("Žižek!"), we already have the antidote for the popcorn blockbuster. Working from Plato's principle that "the unexamined life is not worth living," Taylor takes to the streets for some brisk walking and heady talking that literally asks us to try and keep up. Hooking up with some of today's most influential thinkers, including Peter Singer, Cornel West and a return of the "Elvis of philosophy," Slavoj Žižek, we're invited to listen in for musings on the metaphysical and pontification on pop-culture. (As it happens, Taylor just did some talking of her own here.)
Opens in New York on Wednesday, February 25th.
"Jonas Brothers: The 3D Concert Experience"
Since pop music comes in cycles, it's no surprise that the Jonas Brothers' assistant ditched them earlier this month to go back to Britney Spears. While the poofy-haired trio still have the spotlight and their dressing rooms stocked with the finest Sunny D, Disney looks to cash in with a concert film of their "Burning Up" tour of last summer, presented in Disney Digital 3D. For the teenage girls who worship them, the Jonai offer a backstage pass and play a few previously unreleased songs. For the rest of us, it means they're kicking "Coraline" out of the 3D-enabled theaters.
Opens wide and in IMAX for one week only.