The Pre-Oscar Scrum of Cheerleaders, Fashion Designers and Madea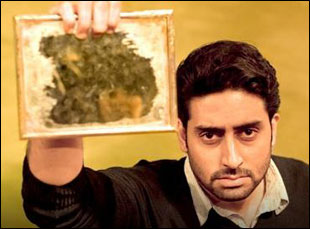 Posted by Neil Pedley on
With all eyes on the upcoming Academy Awards (not to mention the Spirit Awards, the afternoon before), it's a relatively quiet week at the box office. There are some bubblegum high school antics, a couple of documentaries about the dysfunctional, a children's literary classic and a somber drama set during WWII. Take heart, we're nearly over the hump.
Subscribe to the In Theaters podcast: [XML] [iTunes]
"Delhi 6"
BAFTA-nominated director Rakeysh Omprakash Mehra returns with this transatlantic journey of self-discovery that offers itself as another girder in the bridge between Bollywood and the U.S. American-born Indian Roshan (Abhishek Bachchan) makes a pilgrimage from New York to India to bring his ailing grandmother home. In the process, he discovers a little something about himself, his ancestral homeland and the proud traditions contained within it. Veteran composer A.R. Rahman, who's vying for an Oscar for his work on "Slumdog Millionaire," oversees the music. In Hindi with subtitles.
Opens in limited release.
"Eleven Minutes"
After months of grueling competition against eleven other designers to win the first season of Bravo's "Project Runway," Jay McCarroll would face the tough part. "Queer Eye for the Straight Guy" vets Michael Selditch and Robert Tate shadow the fledging designer during his year-long journey towards showing his first collection to industry press and clothing store reps. Granted an all-access pass, Selditch and Tate catalog the many highs and lows leading up to the showcase, the breakthroughs and the breakdowns as Jay and his team tirelessly prepare for a grueling 11 minutes of runway time that could make or break his career.
Opens in limited release.
"Fired Up"
Considering that Universal's "Bring It On" franchise has amassed enough DVD rental dollars to pay multiple times over for the college education of every person that's been in it, it's surprising it took this long for another studio to get in on the act. Not wanting to appear derivative, first-time director Will Gluck and scripter Freedom Jones shift the attention to the guys for this cheerleading comedy. 31-year-old Eric Christian Olsen co-stars alongside the 28-year-old Nicholas D'Agosto as two high school jocks, Nick and Shawn, who enroll at cheer camp in order to pick up chicks. When Shawn falls for the head cheerleader Carly (Sarah Roemer), the boys must prove their intentions are genuine and vow to wow her with their moves at the end of camp cheer-off.
Opens wide.
"Katyń"
From acclaimed Polish filmmaker Andrzej Wadja, this dispassionate retelling of the events leading up to the massacre of some 15,000 Polish Army officers in the Katyń forest in Russia serves as an illustrated correction of more than 50 years of propaganda from the Soviets — who perpetrated the slaughter and then used their considerable postwar influence to shift the blame onto the Nazis. Having opened somewhat appropriately at the Berlin Film Festival in 2007, this best foreign language Oscar nominee from last year draws from the experience of Wadja's own mother for the character of Anna, played by Maja Ostaszewska. The film shifts between Anna's search for her cavalry officer husband, Andrzej (Artur Zmijewski), and his tragic circumstances as a captive of the Katyń internment camp where he and his regiment await execution. In Polish with subtitles.
Opens in New York on Wednesday, February 18th.
"Must Read After My Death"
On the heels of such sleek and polished dissections of suburbia as "Mad Men" and the star-studded "Revolutionary Road," short film director Morgan Dews makes the jump to features with an authentic get-well cocktail of '60s domestic dysfunction tailor-made for audiences jonesing for Don Draper and the boys to pour us all another Scotch. Working from a wealth of found footage following the death of his grandmother, Dews has painstakingly assembled decades' worth of home movies, Dictaphone recordings and taped letters between Allis, a desperately unhappy housewife, and her traveling salesman husband, Charley. What begins as a somewhat touching way to stay in touch with her husband gradually devolve into candid confessionals and damning testimony that ably illustrate the fault lines that run throughout their rose-tinted suburban existence.
Opens in limited release.